Shogun Assassin
(1980)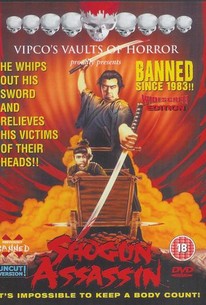 AUDIENCE SCORE
Critic Consensus: No consensus yet.
Movie Info
More a "greatest hits" movie than an actual stand-alone film of its own, Shogun Assassin is the delirious hybrid of two episodes of the popular Baby Cart series dubbed into English and fused together into a hyper-violent bloodbath ballet that's sure to entertain the samurai-film enthusiast with a strong stomach. The swords fly fast and furious as a wondering shogun is forced into exile after being framed and his wife murdered. Giving his infant son the choice between the merciful release of death (represented by a ball) and the life of constant threat and danger (a sword) the child reaches for the sword, marking the beginning of a brutally violent struggle for survival among a sea of would-be assassins. From this point on plot is secondary, focusing instead on a series of violent vignettes in which limbs fly freely in a furious blur of lightning swords. Utilizing masterful swordsmanship in addition to a cleverly designed and lethal baby carriage, father and son are in a constant state of ultra-alert adrenalized awareness, conscious that instant death may lurk beyond every carefully chosen path.
News & Interviews for Shogun Assassin
Critic Reviews for Shogun Assassin
There are no critic reviews yet for Shogun Assassin. Keep checking Rotten Tomatoes for updates!
Audience Reviews for Shogun Assassin
½
Big up to my boy Joe Paul for recommending this to me. I think I may have heard of it, but I had never seen it. This movie is clearly a big influence on a lot of movies and filmmakers. I mean you can clearly see things that "Kill Bill" took from this. From the geyser blood to the revenge themes, it was way ahead of it's time. What impressed me most was that this movie was made in 1980, and isn't dated at all. It holds up very well. The story is universal, the performances are strong. I loved the music and especially the little boys narration. Great watch!
Everett Johnson
Super Reviewer
It's one of the coolest movies ever made. Bloody amazing.
Kevin Cookman
Super Reviewer
½
The shogun assassin in my books proves to be the best Americanized adaption of anything. Although there's not much of a differences between lone wolf and cub and this. The shogun assassin is just built by using the first 10 minutes of the first movie and then sticking it into the second as well as dubbing and shooting a lot more graphic killing scenes and new music. The film really just works as a Japanese western about the shogun a man killing to avenge the death of his wife. Or otherwise it is an Exploitation film. Long ago there was a great samurai warrior who served his Shogun honourably. The Shogun however grew paranoid as he became more and more senile. The Shogun sought to destroy all those who might stand to oppose his rule, and so he sent his ninja spies to the samurai's home. The ninjas failed to kill the samurai, but did kill his beloved wife. From then on, the samurai swore on his honour to seek out the Shogun and avenge the death of his love. The samurai roams the countryside with his toddler son taking on mercenary work for money until the final battle with the Shogun's three Masters of Death. I got to hand it to them they did a much better job then anyone would think for an Americanized adaption. Lone wolf and cub as well as the manga's will still be always the best Japanese's Exploitation westerns ever made. 90% for story like I said it's brilliant for an Americanized version. 80% for acting and dubbing but still all good. 80% for special effects there somewhat better then Lone wolf and cub but there newly shot though. 90% for characters there awesome and amazing the shogun is still my favourite. 80% for everything else. The music in my opinion isn't as good as lone wolf and cub. All I can say is watch if you can find Keiko's score 90-100
Shogun Assassin Quotes
There are no approved quotes yet for this movie.