Silent House
(2012)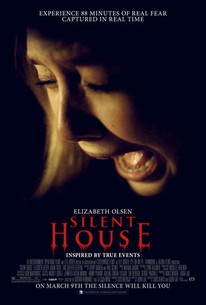 TOMATOMETER
AUDIENCE SCORE
Critic Consensus: Silent House is more technically proficient and ambitious than most fright-fests, but it also suffers from a disappointing payoff.
Movie Info
From the directors of the hit film Open Water, Silent House is a uniquely unsettling horror thriller starring Elizabeth Olsen as Sarah, a young woman who finds herself sealed inside her family's secluded lake house. With no contact to the outside world, and no way out, panic turns to terror to terror as events become increasingly ominous in and around the house. Directed by filmmaking duo Chris Kentis and Laura Lau, Silent House uses meticulous camera choreography to take the audience on a tension-filled, real time journey, experienced in a single uninterrupted shot. -- (C) Open Road
People Who Like this movie also like
News & Interviews for Silent House
Critic Reviews for Silent House
Audience Reviews for Silent House
Elizabeth Olson is one of those very likeable young actresses who got her career started in the independent world of film, and is now working her way to the big screen in a huge way, starring in the sequel to the Avengers. In this film however, she seems to be trying very hard to hold her performance together at times, seeing as the film is seamlessly cut to look like it has all been filmed in one take, and as amazing as that is to watch, the substance just really is not there. From a generic script to a generic and dumb plot twist, this film is nothing more than a throwaway that you can either choose to say you enjoyed or hated. The camerawork is definitely something to admire, but the film surrounding it is very very weak. Sadly, "Silent House" is not warranted a recommendation.
MisterYoda ?
Super Reviewer
"Experience 88 Minutes Of Real Fear Captured In Real Time" This is just one of those films that I can't really gather my thoughts on. One one hand, I love the idea; on the other hand, the execution isn't great. Silent House has a lot of promise. Elizabeth Olsen does a good job as the girl were following around for 88 minutes. The other actors, not so much. Also, I loved the way the film was shot. We're stuck following a girl around a house that is getting weirder as we go along.  Sarah is helping her father and uncle pack up the old, family lakeside house. When her uncle leaves, only the father and daughter are left in the house. Then weird things begin happening. Sarah thinks she hears something up stairs, father goes to check it all out. Everything is fine. Father goes missing. Daughter is being chased.... Yeah, so it's not very original. I can't honestly sit here and say that this film is anything groundbreaking in the horror genre. Still there's something about it that makes me like it more than I should. Silent House has received a ton of slack and I can understand that. The film drags and is down right boring at times. At other times, it managed to keep me in suspense when we were going down hallways and through doors. I wouldn't ever label this as a "scary" movie, but it has its moments that were suspenseful.  I won't lie, the film has its share of problems. For one it isn't atmospheric enough, and that's a vitally important element in a movie like this. Still, I really liked Elizabeth Olsen and the way the movie was shot altogether. I'm not sure whether or not I liked the movie as a whole or whether I was just able to put up with it enough. Still, I believe it's better than a lot of modern day horror films. Maybe that isn't saying a whole lot, but I still have some respect for this movie.
Melvin White
Super Reviewer
Silent House Quotes
| | |
| --- | --- |
| John: | Hey sweetie, I checked your Facebook page, what's his name wrote on your wall again. |
| | |
| --- | --- |
| Sophia: | How long's it been since you were out here? |
| Sarah: | It's been a long time. |