Six-String Samurai
(1998)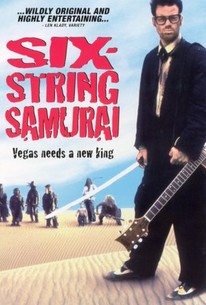 Movie Info
This post-apocalyptic desert spectacle of swords, adventure and rock n' roll wowed audiences at the Slamdance and South X Southwest Festivals. The King is dead. After ruling for more than 40 years from Lost Vegas, Elvis Presley has left America without its leader. Who will become king? With every sword-brandishing, guitar-playing dreamer on the road to Vegas, it's a crowded path to the top. The "Six-String Samurai" is Buddy, a guitar player on his way to Lost Vegas to claim the throne.
People Who Like this movie also like
Critic Reviews for Six-String Samurai
Audience Reviews for Six-String Samurai
½
Samurai and rock musician Buddy (martial artist Jeffery Falcon, a dead ringer for Buddy Holly) travels the post-apocalyptic wasteland, heading to Vegas with the other rock and rollers in a bid to assume the throne left vacant by the dead Elvis. In terms of the setting and concept, this blazingly original and well-crafted movie is so different and unique that you desperately want to fall in love with it, but the layers upon layers of stylization are just so damn thick you end up feeling alienated from the world rather than drawn inside it. Lots of people fall in love anyway, and it's worth taking a chance for fans of cult movies.
½
It's The Road Warrior Picture Show with a Buddy Holly doing his best Toshiro Mifune starring in a Sergio Leone gang picture set in a fantasy future, directed with the flash of a Hong Kong action flick and the nice and slow style of a samurai film and I was still bored
El Hombre Invisible
Super Reviewer
½
This movie is a wonderful experience - the cinematography is stunning, the fights exquisite and the music perfect. One of the most enjoyable theatrical experiences of all time; I'd recommend it to anyone with an open mind about movies.
Cassandra Maples
Super Reviewer
Six-String Samurai Quotes
There are no approved quotes yet for this movie.