Sky Riders
(1976)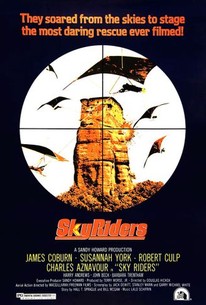 AUDIENCE SCORE
Critic Consensus: No consensus yet.
Movie Info
Rather short on plot line interest, the hang-gliding and beautiful Greek locations help to mediate this deficiency somewhat. Essentially, it's a movie about a group of hang-gliders who get involved in a political kidnapping conspiracy.
Critic Reviews for Sky Riders
There are no critic reviews yet for Sky Riders. Keep checking Rotten Tomatoes for updates!
Audience Reviews for Sky Riders
One of the most overlooked action/suspense films. Terrorists in the seventies? Hang glider action is terrific. [img]https://encrypted-tbn1.gstatic.com/images?q=tbn:ANd9GcSfOUoluH4RoyERRYwGM-YaCJTYArnPzlus0qZW2oOiyjnAzJUkoA[/img] Robert Culp left, James Coburn right Sky Riders is a 1976 American action film directed by Douglas Hickox and starring James Coburn, Susannah York and Robert Culp. A woman and her children are kidnapped in Athens and held in a mountain-top monastery as hostages by a revolutionary terrorist movement. A rescue operation is mounted using hang gliders. [img]http://2.bp.blogspot.com/-VfSw7fAEtMM/USoAwsnf2oI/AAAAAAAANRc/4Itx0tHI_74/s400/sky+rider+masks.JPG[/img] The kidnappers are terrorists SEE the trailer here for a good look, but the movie itself is sharper visuals than the trailer: http://www.youtube.com/watch?v=Ii1AFOFe7qs SEE the entire film here: http://www.youtube.com/watch?v=aLCH9Pg4V5c [img]http://4.bp.blogspot.com/_v0fV15P7uQo/TQOUdTYxFUI/AAAAAAAAIso/HR8rPGk5YKY/s400/sky%2Bglider.jpg[/img] Hang gliders are shown extensivly in the film and to great effect NOTES: 1 The rescue sequences were filmed in Meteora in Greece where the finale of the later James Bond film For Your Eyes Only was set. 2 Film's producer Sandy Howard and Terry Morse Jr. were imprisoned in Greece for an explosion on the set of Sky Riders, when a Greek electrician died. They had to bribe Greek officials so the crew member responsible would not be imprisoned by the military regime. James Coburn - Jim McCabe Susannah York - Ellen Bracken Robert Culp - Jonas Bracken Charles Aznavour - Insp. Nikolidis Harry Andrews - Auerbach John Beck - Ben Zouzou - Female terrorist Kenneth Griffith - Wasserman Werner Pochath - Terrorist #1 Anthony Antypas - Dimitri Telis Zotos - Bracken's secretary Nikos Tsachiridis - Gatekeeper Ernie F. Orsatti - Joe Barbara Trentham - Della Henry Brown - Martin [img]http://ilarge.listal.com/image/3602584/936full-sky-riders-screenshot.jpg[/img] The family is hostage in this abandoned monastery Directed by Douglas Hickox Produced by Terry Morse Jr. Sandy Howard executive producer Written by Bill McGaw Hall T. Sprague Garry Michael White Screenplay by Jack DeWitt Greg MacGillivray Music by Lalo Schifrin (Theme music for TV series Mission Impossible) Cinematography Jim Freeman Greg MacGillivray Ousama Rawi Editing by Malcolm Cooke Distributed by 20th Century Fox Release dates March 26, 1976 Running time 91 min Country United States Language English Box office $1,730,000 (US/ Canada) [img]https://encrypted-tbn2.gstatic.com/images?q=tbn:ANd9GcR4pqdA-JcXzvJtyNrBLs_oeb5xhKSuWjKGZ-jhaGT0pdUlqp-9[/img]
monsieur rick
Sky Riders Quotes
There are no approved quotes yet for this movie.
Discussion Forum
Discuss Sky Riders on our Movie forum!