The Slaughter Rule
(2002)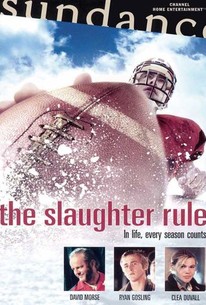 TOMATOMETER
AUDIENCE SCORE
Critic Consensus: A bleak but original indie, The Slaughter Rule benefits from outstanding performances by Ryan Gosling and David Morse.
The Slaughter Rule Videos
The Slaughter Rule Photos
Movie Info
A teenager at a personal crossroads finds himself questioning the things that have given his life meaning in this independent coming-of-age drama. Roy Chutney (Ryan Gosling) is a high school senior in a small Montana town. Roy doesn't have an especially close relationship with his mother Evangelline (Kelly Lynch), and he hasn't seen his father in years. That doesn't prevent Roy from feeling emotionally devastated when he learns that his father has killed himself, and Roy's self-esteem takes a beating when he's cut from the high school football team shortly afterward. Roy wiles away his time swilling beer with his best friend, Tracy Two Dogs (Eddie Spears), and falling into a romance with Skyla (Clea Duvall), a barmaid at a local tavern, but it seems Roy's short time on the high school gridiron impressed Gideon Ferguson (David Morse), a local character who coaches a semi-pro six-man football team when he isn't delivering newspapers or trying to score a gig singing country songs at nearby honky-tonks. Gid thinks Roy has potential, and asks him to join his team; encouraged by Gid's belief in him, Roy agrees, and he persuades Tracy to tag along. While playing hardscrabble six-man football helps restore Roy's self-confidence, he finds it doesn't answer his questions about his future or his relationship with Skyla, and when Gid's overwhelming interest in Roy begins to lend credence to the rumors that Gid is gay, Roy starts to wonder just why he was asked to join the team. Jay Farrar, founder of the acclaimed alternative country bands Uncle Tupelo and Son Volt, composed the film's musical score.
Rating:
R (adult situations/language)
Genre:
Directed By:
Written By:
In Theaters:
On DVD:
Runtime:
Studio:
Critic Reviews for The Slaughter Rule
Audience Reviews for The Slaughter Rule
½
Ryan Gosling and David Morse give terrific performances; I was very impressed by both of them actually. Features a young Amy Adams in a minuscule role.
Jameson Worley
½
Most prominent for being an early starting vehicle and a sign of what was to come of Ryan Goslingâ(TM)s career, The Slaughter Rule is a low-key, humble and honest look at misery, the attempt to escape it and, eventually, the search for mercy when it seems as though darkness has surrounded you. Well-written, acted and directed, The Slaughter Rule doesnâ(TM)t hit the viewer over the head with its themes, characters, developments and character relationships. Itâ(TM)s far from straightforward and more of a character study than anything; one that, due to the largely unfamiliar setting and way of life, might be difficult to grasp for some people. Ryan Gosling stars as Roy, a high-schooler who is having the worst winter of his life: his father dies, heâ(TM)s cut from his high school football team and any connections that he forms with people are eventually disrupted by Royâ(TM)s uneasiness, his inability to trust and the inexperience in the line of passion. With his father gone and his mother busy with her own problems, Roy becomes distant with a local girl heâ(TM)s intimate with, fights with his best friend and doesnâ(TM)t trust his new, low-level football coach (David Morse), who Roy believes to be gay, but simply wants to be there and be supportive of Roy. The film isnâ(TM)t within its bumps in the road. Itâ(TM)s only eight years old, but in terms of compassion, The Slaughter Rule shows its age. While the relationship between Roy and Coach is ultimately harmless, the viewer canâ(TM)t help but believe Coach to be gay as his characters companionship is depicted in a jaded form. On the other hand, the relationship between Roy and the local girl is underdevelopment and their split seems to come out of the blue and the viewer is never given any clear means as to how Roy deteriorates the relationship. However, the film is loaded with symbolic metaphors that play off of its main points and, though unlike the average person in todayâ(TM)s culture, Roy is a relatively easy person to empathize with. The Slaughter Rule is a slow watch that takes its entirety to come full-circle, but for some it will be worth it.
Nick Coviello
Typical. A typical troubled, confused, coming of age kid meets & being enlightened by a typical old man with a mysterious past & dark secret. But a not so typical acting by both David Morse & Ryan Gosling.
WS Wu
The Slaughter Rule Quotes
There are no approved quotes yet for this movie.