Solaris
(1976)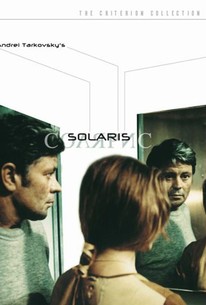 Movie Info
Based on a novel by Stanislaw Lem, Solaris centers on widowed psychologist Kris Kelvin (Donata Banionis), who is sent to a space station orbiting a water-dominated planet called Solaris to investigate the mysterious death of a doctor, as well as the mental problems plaguing the dwindling number of cosmonauts on the station. Finding the remaining crew to be behaving oddly and aloof, Kelvin is more than surprised when he meets his seven-years-dead wife Khari (Natalya Bondarchuk) on the station. It quickly becomes apparent that Solaris possesses something that brings out repressed memories and obsessions within the cosmonauts on the space station, leaving Kelvin to question his perception of reality. Winner of the Grand Jury Prize at the 1972 Cannes Film Festival, Solaris was remade by Steven Soderbergh in 2002.
News & Interviews for Solaris
Critic Reviews for Solaris
Audience Reviews for Solaris
Andrei Tarkovsky's Solaris is a masterwork of Science Fiction cinema that ranks up there with some of the finest in the genre. Solaris is a simple idea, but the way it's handled is exceptional. In Tarkovsky's hands, the subject is grand, and the result is bold, Sci Fi epic that is visually stunning and brilliantly acted. The film is breathtaking in its execution and director Andrei Tarkovsky vision is uncompromising and he delivers a picture that is a definite classic of the genre, one that is ambitious in its ideas and it is a movie is unforgettable. I said that the idea is quite simple, and it is, but the way the concept is expressed on-screen, it makes for a truly engrossing form of storytelling and with phenomenal set designs, So0laris is truly a beautiful looking film. This picture should be seen by any film lover that wants a truly compelling story mixed with stunning visuals. One of the reasons that Solaris stands out among other Science Fiction films is that it uses the bare necessitates to create something grand, and the end result is a flawless piece of cinema that ranks among one of the finest Science Fiction films ever made. Along with 2001: A Space Odyssey and Star Wars: A New Hope, Solaris has helped define the genre for many years to come after its release. While using a simple plot, director Andrei Tarkovsky was able to get the most out of the film by focusing on a unique style that is simple unforgettable. This film is a must watch for any genre fan, and I highly recommend it to viewers who are looking for a truly grand film to watch, then Solaris is that film. Solaris is a truly unique picture to watch, relying and terrific visuals to elevate its story, and boasting phenomenal performances from its cast; it has earned its place among the genres finest works, and is like its contemporaries a ground breaking effort in Science Fiction cinema.
½
You really have to be in the right mood and frame of mind to watch this and get all the way through. That doesn't mean you need to be high, but that might make things a little more interesting. The comparisons to 2001 are warranted, but only to an extent. Thematically, this movie has more in common with something like Vertigo. If you can handle long, slow, "heavy" art films with a loose plot, then this is for you. I'm not a huge fan of films like this, but I was able to get through this without much effort, which is amazing. Brilliant, poetic, visually stunning, and more like an experience than anything else. If you want something different, check this out.
Chris Weber
Super Reviewer
½
A laboriously long science-fiction film gives time for deep meditation about human existence and its perplexing themes. A bit tad too long, but it must be, in all its mystery. Its haunting, and has me rooted to my own life and thinking..
Adriel Lim
Super Reviewer
Solaris Quotes
There are no approved quotes yet for this movie.