Sometimes They Come Back...Again
(1996)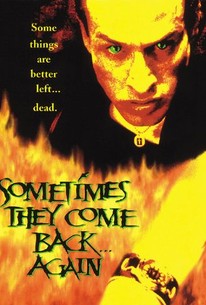 AUDIENCE SCORE
Critic Consensus: No consensus yet.
Sometimes They Come Back...Again Photos
Movie Info
John Porter is being tormented by evil spirits who killed his sister three-decades earlier. They start by taking over the body of his lovely teenage daughter, but the spirits underestimate Porter; although he is terrified, he is determined to stop them.
Rating:
R
Genre:
Directed By:
In Theaters:
On DVD:
Runtime:
Studio:
LionsGate Entertainment
Critic Reviews for Sometimes They Come Back...Again
Audience Reviews for Sometimes They Come Back...Again
A cheap imitation of Stephen King's work, Sometimes They Come Back...Again is a festering piece of garbage. After interrupting a demonic ritual as a child, Jon Porter is lured back to his hometown 30 years later for his daughter's 18th birthday so that the ritual can be completed. The plot replaces the mythology of the first film with generic tripe, and the characters are one-dimensional stereotypes. Sometimes They Come Back...Again is a poorly made horror film with no vision.
Dann Michalski
Super Reviewer
Sometimes They Come Back... Again starts in the small American town of Glenrock where an old lady falls off a chair & dies in mysterious circumstances... Cut to Los Angeles & her son Jon Porter (Michael Gross) in informed of his Mother's death, together with his daughter Michelle (Hilary Swank) his goes back to his childhood town to attend the funeral & sort a few things out. However once back strange things begin to happen, a sinister figure from Jon's past in the shape of Tony Reno (Alexis Arquette) comes back to haunt his daughter. As past memories come flooding back to Jon a series of brutal murders take place all of which seem to come back to him & his daughter in someway. Only another figure from Jon's past seems able to help, an old priest named Father Archer Roberts (Willaim Morgan Sheppard) who talks of demons & sacrificial rituals... Co-written & directed by Adam Grossman Sometimes They Come Back... Again was the second film in a series of three which started with the Stephen King inspired made-for-TV Sometimes They Come Back (1991) which I have not seen & continued after this with Sometimes They Come Back... for More (1999) which I have seen & liked. The script by Grossman & Guy Riedel moves along at a nice pace & has a certain air of mystery about it, I mean it won't take a genius to work things out but at least it tries to do something a bit different & keep you guessing which is a hell of a lot more than a lot of dull boring horror films even attempt. The character's are OK & no one annoys, the main villain reminded me of John Travolta as Danny from Grease (1978) & I was half expecting him to break out into a 'feel-good' pop tune at any moment! Personally I have seen far worse & I thought this was a decent way to spend 100 odd minutes but it seems I'm in the minority & no one has ever accused me of having a particularly good taste in films so you may want to bear that in mind. Director Grossman does an OK job & the film looks fine throughout. There isn't much gore but what's here is decent, there's a cool scene in which someone has their head run over by a lawnmower with the expected blood spraying results & Sometimes They Come Back... Again is probably the only film to feature a literal death by Tarot card! The demon make up is alright. With a supposed budget of around $3,000,000 Sometimes They Come Back... Again is a competently made film with a certain polish to it, I mean it ain't brilliant but it's far from bad. The acting is good although Arquette is a bit campy as the main villain & I think we could have done without a lot of the tacky one-liners which start to creep in towards the end. A pre fame Hilary Swank does an OK job & makes for a likable leading lady. Sometimes They Come Back... Again was, in my opinion, a pretty good film & better than I had expected. Personally I think you could a lot worse, sure you could do a lot better but not every film can be a Citizen Kane (1941), can it?
Cassandra Maples
Super Reviewer
Sometimes They Come Back...Again Quotes
There are no approved quotes yet for this movie.