Spaceballs
(1987)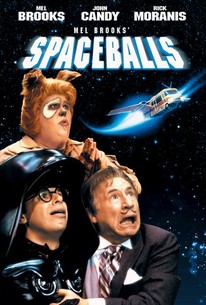 Movie Info
The evil leaders of Planet Spaceball, having foolishly squandered their precious atmosphere, devise a secret plan to take every breath of air away from their peace-loving neighbour, Planet Druidia. They send the evil Dark Helmet to kidnap Princess Vespa on the day of her wedding, in the hope of holding Druidia to ransom. But the princess skips town and joins forces with a mercenary named Lone Starr and his sidekick, Barf.
News & Interviews for Spaceballs
Critic Reviews for Spaceballs
Audience Reviews for Spaceballs
½
Moments of real humor, but it relies to heavily on the cornball schtick.
Christian C
Super Reviewer
½
It's just great. The unique movie which you see John Candy, Rick Moranis, Mel Brooks and John Hurt! A great Star Wars spoof.
Lucas Martins
Super Reviewer
[img]http://images.rottentomatoes.com/images/user/icons/icon14.gif[/img] Spaceballs is downright bad filmmaking, but it's OK because it's a parody, right? Well, it's certainly not as funny as the Mel Brooks classic range which includes films as witty and downright hilarious as "Blazing Saddles". Therefore, I sadly noticed the flaws with the direction, writing, acting and production values of this nostalgic parody following the eye rolling mishaps going on in a galaxy far far away. What really depresses me about Spaceballs is how desperate it is, there are many jokes in the film that are repeated supposedly because Brooks ran out of ideas. The talented comedian Rick Moranis plays a knock off of Darth Vader with an unnaturally enormous helmet, named Dark Helmet. The central gag with the parody of Vader is that he struggles to maneuver with the helmet on. Funny the first time, yes, funny any other time, not really. Also if this is parodying "Star Wars", why wasn't their much parody? I think it's down to the fact it just wishes to be a delightfully goofy slapstick comedy and nothing more, that just happens to have an all star cast and a massive budget. Which brings me to the most mind boggling aspect of watching this film, all the way through I thought to myself why the film looked so cheap. After all, it was made 10 years after the original "Star Wars" film, and also had 3 times the budget. Why the special effects were worse and the set designs more cardboard, i'll never know. Perhaps because the money went into the writing and convincing John Candy to get in a fur-suit. I personally find that hilarious, and especially the opening, but as a whole it could have been funnier, and should have been another Mel Brooks classic. I am sad to report that it isn't, but it's undeniably fun, if quite tiresome. Only by the inch of it's life does it carry just about enough material for a generic parody. However a cast this talented should have been able to pull off something a little better than this.
Directors Cat
Super Reviewer
Spaceballs Quotes
| | |
| --- | --- |
| Princess Vespa: | What's happening? |
| Dot Matrix: | It's either the 4th of July or someone is trying to kill us! |
| | |
| --- | --- |
| Col. Sandurz: | Lord Helmet! |
| Lord Dark Helmet: | WHAT?! [hides his dolls] |
| Lord Dark Helmet: | What? |
| Col. Sandurz: | We need you sir! |
| Lord Dark Helmet: | KNOCK ON MY DOOR! KNOCK NEXT TIME! |
| Lord Dark Helmet: | Knock on my door next time! |
Discussion Forum
Discuss Spaceballs on our Movie forum!