Steamboy
(2005)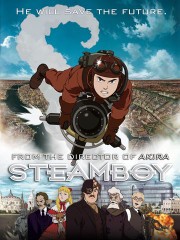 Steamboy Trailers & Photos
Movie Info
Katsuhiro Otomo, director of the groundbreaking anime feature Akira (1988), returns with this visually striking fusion of the past and the future. It's the Industrial Age in England, reimagined, and various and sundry inventors and scientists are arriving in Britain to hawk their products while capitalism rears its ugly head. A gadget-happy British lad named Ray (voice of Anna Paquin) receives a mysterious package from his grandfather Lloyd Steam (Patrick Stewart) -- a tiny ball that turns out to be an engine toting immense power. As it happens, several of these little balls run the O'Hara pavilion, a massive, mobile fortress. Ray later discovers that his dad and grandfather are located inside of the pavilion; his dad, Eddie, has become mesmerized by O'Hara and subject to their whims, while Lloyd suspects that O'Hara may want to use the balls for nefarious purposes, and tries to put a definitive end to those plans. Indeed, the O'Hara people soon take over the Great Exhibition and turn it into a veritable circus for weapons dealers. Meanwhile, Ray starts to develop feelings for a young girl named Scarlett O'Hara.
more
Cast
News & Interviews for Steamboy
Critic Reviews for Steamboy
Audience Reviews for Steamboy
This Japanese computer-generated anime is cool, starts out as a nice Jule Verne-style adventure, but the story is too complicated and talky to maintain momentum. Animation of the machines is smooth and graceful, but the characters are stiff and charmless.
Dean McKenna
Super Reviewer
½
[font=Century Gothic]"Steamboy" starts in Manchester, England in 1866 where Ray Steam is a mechanic and engineer, even though he is still a kid. He lives with his mom while his father and grandfather are working on an engineering project in Alaska. One day, a package arrives from his grandfather which contains a metal ball with a detailed set of instructions. Quickly, some sinister-looking gentlemen from the O'Hara Foundation, the elder Steams' employers, show up and ask for the package. When their request is politely declined, they resort to force. Ray resorts to escaping on a self-propelled wheel with the villains in hot pursuit in a mechanized tractor.[/font]
[font=Century Gothic][/font]
[font=Century Gothic]"Steamboy" is a fun and creative adventure anime in the steampunk subgenre that is very well animated. It has much to say about a scientist being responsible for any weapons that they invent. Any respectable scientist should steer clear of the military at all costs and not let their inventions be exploited.[/font]
[font=Century Gothic][/font]
[font=Century Gothic]Note: I watched this movie in Japanese with English subtitles.[/font]
Discussion Forum
Discuss Steamboy on our Movie forum!
News & Features