Subspecies
(1991)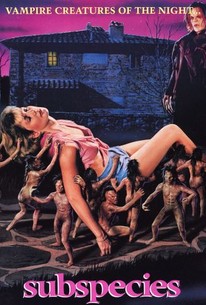 Movie Info
A disparate pair of vampiric brothers tussle for the possession of their father's powerful bloodstone in this violent horror outing that was shot on location in Transylvania.
Critic Reviews for Subspecies
All Critics (5) | Fresh (4) | Rotten (1)

The special effects are great, the atmosphere is super, and the drama is intelligent. There is also plenty of gore.
Watchable horror nonsense

Mountain Xpress (Asheville, NC)
Audience Reviews for Subspecies
B-side vampire movie with a realistic setting, dark atmosphere and one of the best makeup details I've seen in a film. Been wanting to see this for a long time and had the pleasure of not only buying the trilogy on blu ray at HorrorHound, but met the star of the film, Anders Hove, who gives a creepy seductive performance as Radu the antagonist who fights his half brother for the sacred bloodstone so he could be rightful heir to their family throne. The blu ray version really stands out with quality sound and a clean colorful remaster of the picture. I will enjoy this movie for a long time for the overall experience of watching the film and meeting all those involved with its inception.
Adam Cook
It's an interesting vampire movie, but a bit slow and the plot has a few holes. The acting is alright, and the effects were decent for it's time and budget. It's much better than Twilight, and yet has some strange similarities.
Wes Shad
Great friggen' horror film from my heroes at Full Moon Entertainment, who in my opinion, were doing some of the best horror movies of the late 80's and on through the 90's.
Tim Salmons
Super Reviewer
Discussion Forum
Discuss Subspecies on our Movie forum!