Subway
(1985)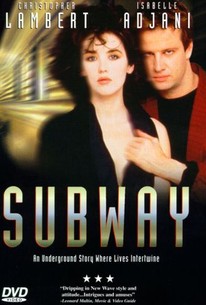 Movie Info
Coming in on the heels of his internationally acclaimed first film, Le Dernier Combat, 26-year-old director Luc Besson created this tongue-in-cheek look at filmmaking and at the denizens in the tunnels of the Paris Metro -- a new kind of underground movie. Fred (Christopher Lambert) has just stolen some major documents from a birthday celebration given by the Paris elite for one of their kind, Helena (Isabelle Adjani). He takes off into the Metro just as it is shut down for the remaining few hours of predawn darkness and once in the Metro encounters several characters in the tunnels. There is a bodybuilder who works out with subway parts, a purse-snatcher, and a flower seller of dubious ethics. Inspired by the moment, Fred decides to recruit a few of the ubiquitous musicians who perform (some of the best music around) on the Metro's byways, and he creates a rock band. Through all of these encounters and activities, the police and others -- including Helena -- are after Fred for their own reasons, none of which coincide. As Fred discovers, going underground can be risky.
Critic Reviews for Subway
All Critics (7) | Fresh (6) | Rotten (1) | DVD (4)
Luc Besson's first film is a seedy look into Parisian subway culture - literally.
February 11, 2003 | Rating: 3/5
Silly but great to look at.
November 29, 2002 | Rating: 3/5
Audience Reviews for Subway
More concerned with looking good than going anywhere.
Marcus Woolcott
Super Reviewer
Can I please have the 100 minutes of my life back that ive just wasted on this? Recommended to me by a colleague who was a friend as well but is now just a colleague after this. Bizarre non-sensical story with endless chases around the Underground\Metro\Subway (not the sandwich shop) with the painfully inept French version of the Transport Police that ends with a shooting during an 80s rock concert by the cast of It Aint Half Hot Mum. I could go on except that id rather gnaw my own left foot off. Lambert sports the most ridiculous hairstyle since Johnny Depp in Edward Scissorhands and even the usually superb Jean Reno is reduced to an imbecilic drummer that has no name who carries a set of drumsticks everywhere he goes. On the plus side it does look good and has a feel that is more 80's than Pink Legwarmers & Saturday evenings watching The A-Team.
Justin Frazer
Super Reviewer
Weird film this, I'll be honest here, I didn't really get what was going on haha just very strange. Some regulars turn up, Reno and Anglade (both very young looking, Reno with hair!!) and do sterling work in their roles but its just a very weird film, much like Lambert's acting style and haircut. Nice imagery throughout though and a good car chase at the start somehow keep you attached...here and there :)
Phil Hubbs
Super Reviewer
Subway Quotes
There are no approved quotes yet for this movie.