Suffragette
(2015)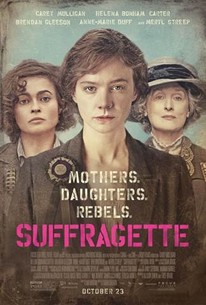 TOMATOMETER
AUDIENCE SCORE
Critic Consensus: Suffragette dramatizes an important -- and still painfully relevant -- fact-based story with more than enough craft and sincerity to overcome its flaws.
Movie Info
Academy Award nominees Carey Mulligan and Helena Bonham Carter, and three-time Academy Award winner Meryl Streep, lead the cast of a powerful drama about the women who were willing to lose everything in their fight for equality in early-20th-century Britain. The stirring story centers on Maud (played by Carey Mulligan), a working wife and mother whose life is forever changed when she is secretly recruited to join the U.K.'s growing suffragette movement. Galvanized by the outlaw fugitive Emmeline Pankhurst (Meryl Streep), Maud becomes an activist for the cause alongside women from all walks of life. When increasingly aggressive police action forces Maud and her dedicated fellow suffragettes underground, they engage in a dangerous game of cat-and-mouse with the authorities, who are shocked as the women's civil disobedience escalates and sparks debate across the nation. Inspired by true events, SUFFRAGETTE is a moving drama exploring the passion and heartbreak of those who risked all they had for women's right to vote - their jobs, their homes, their children, and even their lives. The film also stars Ben Whishaw, Anne-Marie Duff, Brendan Gleeson, Romola Garai, and Natalie Press. SUFFRAGETTE is directed by BAFTA Award winner Sarah Gavron from an original screenplay by Emmy Award winner Abi Morgan. (C) Focus Features
News & Interviews for Suffragette
Critic Reviews for Suffragette
Audience Reviews for Suffragette
½
A mediocre period film, Suffragette is a historical drama that looks at the English Suffrage movement. After she's asked to testify before a political committee a laundry worker is drawn into the movement to give women the right to vote, but the more involved she gets the closer she comes to losing everything. Starring Carey Mulligan, Helena Bonham Carter, and Brendan Gleeson, the cast is pretty strong. However, the writing is rather weak as the plot seems to meander and doesn't have a clear focus. And, the characters are a little underdeveloped. Still, the production values are really good and help to draw the audience into the film. The poor storytelling holds Suffragette back, but it still has a powerful message about the struggles that past generations have faced to gain the freedoms that we enjoy today.
Dann Michalski
Super Reviewer
There are too few movies about this topic. British suffragettes, women of every class fight for the right to vote. Brendan Gleeson plays the main detective trying to stop the women's efforts to be heard. Helena Bonham Carter's character has experience with protesting and the support of her pharmacist husband. Anne-Marie Duff's character is a sister factory worker with a teenage daughter who works in a laundry with Carey Mulligan's character. Mulligan's Maud Watts loses her husband, her son, her livelihood, and generally suffers tragically. Meryl Streep's face and name are all over the marketing materials. Streep plays a famous suffragette who rallies the troops through speeches organized at secret locations, though it seems like she appears on film for only five minutes. Maud Watts is at the center as a representative of all women who fought for women's rights despite having very few resources to begin with. Stories like these should be told more often, so perhaps a future filmmaker will succeed with a more finely crafted tale.
Byron Brubaker
Super Reviewer
I really wanted to like this film for the importance of what it wants to say, but while it isn't bad, it is too conventional and marred by some clichés and silly plot devices to create suspense - like someone conveniently finding a newspaper with an information that he needs.
Carlos Magalhães
Super Reviewer
Suffragette Quotes
| | |
| --- | --- |
| Violet Cambridge: | We break windows, be burn things, because war is the only thing men listen to. |
| | |
| --- | --- |
| Violet Cambridge: | All my life I've done what men told me. Well I can't have that any more. |
| | |
| --- | --- |
| Emmeline Pankhurst: | Votes for Women! |
| Emmeline Pankhurst: | Votes for women! |
Discussion Forum
Discuss Suffragette on our Movie forum!