Sunset Park
(1996)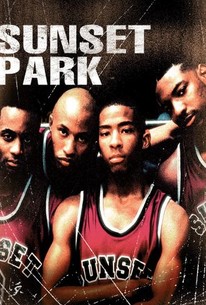 Movie Info
A Jewish high school teacher, Phyllis Saroka (Rhea Perlman), steps in to take on the thankless job of coaching the school's inept basketball team, which is filled with ne'er-do-wells from the slums. She takes the job to get extra money to fulfill her dream of opening a restaurant on the Caribbean island of St. Croix. Phyllis has had bad luck with men, is dissatisfied with her teaching job, and is desperate to do something meaningful as she approaches middle age. Meanwhile, the players on the team are ambitious only about scoring drugs and girls and inventing their own rap songs. Butter (James Harris) is the team's only really talented player, but he wastes most of his energy chasing skirts. Busy-Bee (De'Aundre Bonds) is a small but highly energetic goofball. The mind of Spaceman (Terrence Dashon Howard) has been diminished by learning disabilities and drugs. Phyllis's greatest challenge is the brilliant, moody Shorty (Fredro Starr). Shorty teaches Phyllis the game, but he feels betrayed when he learns that she is planning to leave after one season. Perlman's husband, Danny DeVito, served as the film's producer.
Audience Reviews for Sunset Park
this was a decent watch but very typical. basically the same film that youve seen a dozen times.
Chosen 718
Super Reviewer
Sunset Park Quotes
There are no approved quotes yet for this movie.