Target Earth
(1954)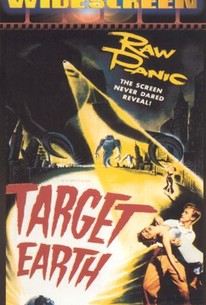 AUDIENCE SCORE
Critic Consensus: No consensus yet.
Movie Info
Two Chicago residents living in different parts of the Windy City awaken one morning to discover that legions of Venusian robots have destroyed most of the city. While a scientist searches for weaknesses in the invaders, the five other survivors (including gangsters) gather together. The giant robots are particularly well-executed.
Rating:
NR
Genre:
,
Directed By:
Written By:
In Theaters:
On DVD:
Runtime:
Studio:
VCI
Critic Reviews for Target Earth
All Critics (1) | Fresh (0) | Rotten (1)
It's a modest film for those sci-fi connoisseurs who flip out over paranoiac Cold War flicks about outsiders as dangerous foes.

Ozus' World Movie Reviews
Audience Reviews for Target Earth
A familiar story line, but still a good movie for a low budget sci-fi fifties movie, I enjoyed it.
Despite its very low budget [u]Target Earth[/u] is an excellent film. It achieves a real sense of menace with minimal materials. It is fast paced but slows down when it needs to. The small cast may have been dictated by the limited budget but the film makes an asset of what could have been a liability – accentuating the foursome's isolation and peril and also letting us get to know and like them. The acting is consistently good to excellent and the characters are believable and have depth that is usually missing in SF of the era. In the end there are still unanswered questions about each of the four lead characters and that adds to their realism in a fantastical tale. Nora (Kathleen Crowley) wakes up from a failed suicide attempt to find that not only is she alone in her rooming house but that the city, as seen through her window, seems to be inexplicably deserted. As she walks through the empty streets in search of someone the viewer cannot help but feel her sense of isolation and growing panic. The use of overhead photography in these scenes of her search reminds me of Welles and is as effectively used by director Sherman rose as it ever was by Welles or Hitchcock. Though the setting is supposed to be Chicago, these scenes were shot in downtown Los Angeles on a Sunday morning – a time when I can assure you the area truly does seem abandoned by mankind. Nora's alarm is naturally intensified when she stumbles upon a dead body. The horrified expression on the corpse's face isn't exactly soothing to her nerves either. Soon after, in a classic "bus" shot, she meets Frank (Richard Deming), an out-of-town businessman who awoke to find the city deserted after he had been mugged and knocked out the previous evening. Frank and Nora then meet Vicki (Virginia Grey), and Jim (Richard Reeves), a drunken, bickering couple who are drinking their way thru the city's abandoned nightclubs. They now learn why the city is deserted – it has been evacuated in the face of an invasion from outer space. Frank and Nora convince Vicki and Jim to give up their bar hopping and together they go outside, determined to find a way out of town. This is when they have their first encounter with the alien invaders -- robots armed with a deadly heat ray. The robot is a pretty cheesy special effect and although the storyline tells us that there is an army of robots the film never shows more than one. Somehow, however, that robot burned itself into my memory when I first saw this movie and seems to have had the same effect on many others. While I personally have never had a nightmare of any sort, I've heard of a number of people who report having nightmares in which they were pursued by that robot thru empty streets for years after seeing this movie. The foursome takes shelter in a hotel where they are soon joined by a menacing hoodlum (Robert Roark) who plans to use them as decoys in his escape from the robotic menace. He meets a predictable end and soon after one of the robots smashes its way into their sanctuary. Not everyone survives the battle with the robot but at the last minute the Army arrives armed with a new weapon capable of disabling the robots. The search for a weapon has been presented in a series of brief scenes of soldiers and scientist at work scattered thru the earlier scenes of the film.
David Duncan
Target Earth Quotes
There are no approved quotes yet for this movie.
Discussion Forum
Discuss Target Earth on our Movie forum!