Tere Bin Laden
(2010)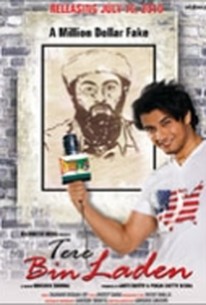 AUDIENCE SCORE
Critic Consensus: No consensus yet.
Movie Info
"Tere Bin Laden" is a tongue-in-cheek comedy about an ambitious young news reporter from Pakistan who is desperate to migrate to the US in pursuit of the American dream. His repeated attempts to immigrate are shot down as his visa is always rejected. But when things couldn't look worse he comes across an Osama bin Laden look alike. Ali then hatches a scheme to produce a fake Osama video and sell it to news channels as a breakthrough scoop! Unfortunately there are serious ramifications as the White House gets involved and dispatches a overzealous secret agent on Ali's trail
Critic Reviews for Tere Bin Laden
All Critics (1) | Top Critics (1) | Fresh (1) | Rotten (0)
Satire may be the point of "Tere Bin Laden," but its low-key charm mostly comes from its dotty twist on the let's-put-on-a-show plot as Ali and his eccentric helpers make their videos.
Audience Reviews for Tere Bin Laden
½
While the rating may prove otherwise, my experience with the two 'Bollywood' movies I've seen (this one and Peepli Live) have been, surprisingly, positive. I'm just simply not interested in 3 hour movies that feature multiple musical numbers and melodramatic plots. It's just unbearable to me. This may all be a culture clash of course but musicals were also a big part of Hollywood in the 50s and 60s and I can't stand those either. In fact I was watching part of West Side Story, just yesterday in fact, and I had to change it because the musical numbers were really annoying. Anyway the point is, I, generally, don't want to watch any three hour musicals and thankfully this movie isn't that, though it has a musical number but it's the one during the opening credits of the movie and since it was just the one and it was completely detached from the rest of the movie, I had no problem with it. Anyway this movie is decent at best which is kind of a shame because it continually kept getting better and it just ended when it was starting to get good. Of course the premise is very silly, especially considering there are people who studied all the Osama videos who could pick up whether it was authentic or not just by the way he moved his hands (I'm exaggerating, but small things like that is what I'm referring to) and it would be pretty easy to say this video was a fake if this were real. Of course, this is really a nit-pick and it didn't really affect the rating I gave the movie, I just found it funny. The satire wasn't particularly biting but the cast seemed to be having a lot of fun and that, to me at least, always adds to a movie. There's also the one hilarious scene with chicken and the grenade that was so absurd it almost made the movie good by default. See this is why I don't like the scoring system sometimes, the review doesn't really reflect the score I gave it. But I do think it's an average movie that was just ALMOST good.
Jesse Ortega
Super Reviewer
As this movie was commended by quite a few Bollywood celebs & most of the critics, I was looking forward for a great comedy. And the first few minutes were quite satisfactory, too. However, after those initial moments, it tries too hard to come across as a situational comedy, but falls flat on its face for most of the part. Its satirical approach is equally ineffective. What a disappointment!!! Ali Zafar makes a fine entry into Bollywood, though.
familiar stranger
Super Reviewer
Tere Bin Laden Quotes
There are no approved quotes yet for this movie.