That Thing You Do!
(1996)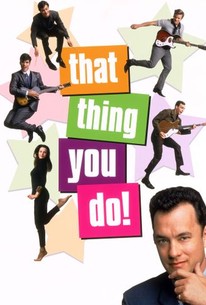 TOMATOMETER
AUDIENCE SCORE
Critic Consensus: A light, sweet, and thoroughly entertaining debut for director Tom Hanks, That Thing You Do! makes up in charm what it lacks in complexity.
That Thing You Do! Photos
Movie Info
Tom Hanks made his directorial debut in this bright comedy set in the mid-1960's about a rock group and their brief fling with fame. Guy Patterson (Tom Everett Scott) works as a salesman at his father's appliance store and plays the drums in his spare time, fancying himself a jazz musician. One day, a buddy of Guy's tells him a local rock band, The One-Ders (it's pronounced "wonders"), are in need of a drummer -- they have Battle of the Bands coming up and their usual timekeeper has broken his arm. Guy agrees to sit in, but when it's time to play their best original, a love ballad called "That Thing You Do," Guy lays in a sharp, driving beat that turns the tune into an uptempo pop-rocker. Lead singer Jimmy (Johnathon Schaech) isn't happy at first, but guitarist Lenny (Steve Zahn) and the nameless Bass Player (Ethan Embry) think the song sounds better that way -- and they notice the girls like it just fine. Soon people are actually requesting the song at their shows, and the One-Ders scrape together some money to press a single of "That Thing You Do" to sell between sets. A DJ puts the song on the radio, and opportunity knocks in the form of Mr. White (Tom Hanks), who works for the very major Play-Tone Records label. Play-Tone buys the rights to "That Thing You Do" and puts the band on the road as their song makes it way to the top of the national charts. But what can The Wonders (as Play-Tone have re-named them) do for an encore? And what should Guy do about his infatuation with Jimmy's girlfriend, Faye (Liv Tyler)? Real-life 60's obsessed rocker Chris Isaak has a small part as a recording engineer, and fans of real 60's garage bands will appreciate the wealth of small, accurately observed details (for example, halfway through the film, when a few "That Thing You Do" royalty checks have presumably kicked in, the band's inexpensive Danelectro guitars disappear and the Wonders are suddenly playing on brand new Fender gear -- the height of rock style in 1965). ~ Mark Deming, Rovi
News & Interviews for That Thing You Do!
Critic Reviews for That Thing You Do!
Audience Reviews for That Thing You Do!
Finger-snapping, head-bopping fun! Tom Everett Scott is effortlessly cool with his ugly-sexy mug, and Liv Tyler is luminous and effervescent. Steve Zahn looks suave and uncharacteristically the most grown up of the bunch. The O-nedders. Hyuk.
Alice Shen
Super Reviewer
Graham Jones
Super Reviewer
½
In every life there comes a time when that dream you dream becomes that thing you do. Good movie with a happy ending for everyone. The movie features one of my favorite actors of all-time Tom Hanks and even though he's not a big part of the film you can't help but feel his touch in this movie and it was great. The film's plot is fairly simple, yet it doesn't veer off into the typical VH1 Behind The Music avenue of excessive sex and drugs. The cast was amazing, lots of good and funny actors, all contributing to fine piece of film. The film follows the career of the Erie, Pennsylvania, rock band that formed in the middle of the Britsih Invasion following the Beatles success. Guy Patterson, son of a local appliance store owner and a good drummer who idolizes jazz, is involved in a shallow relationship with Tina Powers. He is asked by rhythm guitarist/singer Jimmy Mattingly and lead guitarist/singer Lenny Haise to substitute for their unnamed beat group's regular drummer, Chad, who has broken his arm, at that night's annual Gannon College talent show in an attempt to win the $100 first prize. Rounding out the group is the band's never-named bass player T.B. Player. They are to play a ballad written by Jimmy, "That Thing You Do", which they rehearse in a garage. At the suggestion of Jimmy's girlfriend Faye Dolan, inspired by a comment from Guy, they adopt the name "The Oneders" (pronounced "ONE-ders"), but it is almost always mispronounced as the "oh-NEE-ders." At the talent show, Guy sets the beat substantially faster than its original ballad tempo. Although the rest of band struggles to keep up, everybody gets up to dance to it, they overwhelmingly win the $100 top prize, and they get their first paying gig, at a pizza parlor near the airport. After a fan requests their record, they enlist the help of Guy's Uncle Bob, who records songs and sermons for churches and choirs, to record and cut the song on vinyl, which Faye sells at their gig. Talent scout Phil Horace sees them play, buys a record and introduces himself to Guy at the appliance store. Based on Horace's promise that he will get them radio airplay and performance bookings in big cities like Pittsburgh and Steubenville, The Oneders sign him as their manager, despite Jimmy's initial reluctance to assign rights to his music. Horace is successful: the song is played three times in one day on WJET and they are booked at a gig in Pittsburgh sponsored by well-known mattress salesman "Boss Vic Koss". Although the first set is a failure due to a series of technical mishaps, Horace has secretly arranged for a record company A&R (Artist & Repetoire) man, Mr. White to see the show. He is impressed by their record, buys the band's contract, signs the band to his employer (the Play-Tone record label), changes the spelling of their name to The Wonders, and decides that Guy should always wear sunglasses on stage and be known as "Shades" as a gimmick. He also arranges for Faye to accompany the band as "wardrobe mistress." At the same time, Tina (not very impressed with Guy's newfound semi-stardom) falls in love with her new dentist and dumps Guy. Alongside other Play-Tone artists, the band tours state fairs across the Midwest, and the single enters and climbs the Billboard Top 100. As the tour progresses, The Wonders go from being the opening act to the feature attraction, even earning band-specific stage decorations. Throngs of teenage girls mob the band at one tour stop. While on tour, Jimmy engages in an affair with aging siren Diane Dane. When the song hits the Top 10, the band is ordered to leave the tour in Wisconsin and head for Hollywood for a slot on The Hollywood Television Showcase. On the airplane, White announces that the band also will be appearing in a major motion picture and, at Jimmy's urging, doing a recording session for an album, while Faye comes down with a severe cold. Meanwhile, in Erie, original drummer Chad has taken Guy's place as a salesman at Patterson's Appliance. While at a promotional photo shoot at Play-Tone records corporate headquarters they meet Sol Siler, the owner, who wants his deli (luncheon spread) more than meeting the talent. White has also made arrnagements for the Wonders to appear as "Cap'n Geech and the Shrimp Shack Shooters" in a film, Weekend at Party Pier, a beach movie typical in the 60s. Jimmy becomes disillusioned and sulks. During an off day, the bass player abandons the band to visit Disneyland with a group of Marine Corps sargents, whose ranks he had previously committed to join. Alone, Guy goes to a jazz club, where he meets his idol, jazz pianist Del Paxton, and drinks with him until closing time. The next day, experienced studio bassist Scott "Wolfman" Pell joins The Wonders in placve of the Marine ensconsed bass player for a live performance on The Hollywood Television Showcase. During the Wonders live performance, the words "Careful girls, he's engaged!" are captioned on the screen beneath Jimmy's image (an homage to "Sorry girls, he's married!" to John Lennon on the Ed Sullivan Show, which is referred to in the film). After the show, an angry Jimmy rudely tells Faye and the rest of the band that he is not engaged and that he doesn't intend to marry Faye. Hurt by Jimmy's callousness and insensitivity, Faye ends their relationship. At the recording session the next day, the Wonders learn that they are to record songs from the Play-Tone catalog for their album. White promises Jimmy one original song per side of the album, but makes it clear that he wants "snappy" material, not ballads. Jimmy promptly quits the band and walks out. Lenny never even shows up for the session (he went to Las Vegas with a Play-Tone secretary the night before and then married her). With the departure of everyone but Guy, there are no more Wonders. Guy remains in the recording studio alone, as it was his first time in one, and his impromptu drumming catches the ear of Del Paxton, who is recording next door. The two record a jam session where Guy plays a drum routine entitled "I Am Spartacus" while Del improvises an accompanying piano part. Back at their L.A. hotel, Guy tells Faye that Del thinks he can make it as a session musician in L.A., and Faye and Guy finally declare their love for one another. In a written epilogue, Guy and Faye remain in Los Angeles, marry the following year and raise four children, and found a music conservatory in which Guy teaches Jazz Composition. Jimmy rejoins Play-Tone and records three gold albums with a new band called The Heardsmen (his choice for the original Erie band). Lenny manages a casino in Laughlin NV, but he is now single. The Bass Player was awarded the Purple Heart for wounds sustained while serving in the Marines, and becomes a building contractor in Florida.
That Thing You Do! Quotes
Discussion Forum
Discuss That Thing You Do! on our Movie forum!