Shadow
(2011)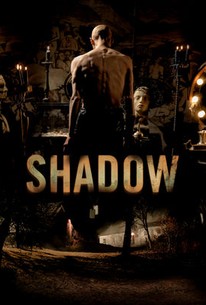 Movie Info
SHADOW tells the strangely ethereal story of David (Jake Muxworthy), a young soldier returning from a tour of duty in Iraq, who decides to go on a mountain biking adventure in Europe to forget his battle-weary past. In the woods, he meets pretty young stranger Angeline (Karina Testa) and they team up to explore the picturesque surrounding area. Soon they learn of a mystifying local myth... a legend that will force David to face more shattering fears than he did during wartime. To meet the bloodthirsty butcher Mortis (Nuot Arquint) and to discover that reality is sicker than any nightmare. -- (C) IFC Film
Rating:
NR
Genre:
,
Directed By:
In Theaters:
On DVD:
Runtime:
Studio:
Critic Reviews for Shadow
Audience Reviews for Shadow
½
Shadow (2010) handles deeper themes and issues than it lets on, which is surely a good thing because as far as plot goes it's pretty standard fare. To my knowledge no other film has treated PTSD disorder in quite the same way. It adds value and depth of meaning to a crumbling genre, and aesthetic value through reflection that lingers on well after it is finished. While the events of the story are easily forgotten, the principal flaw with the movie originates not in its conception but in its execution. On the one hand, it's a bad case of writer/director displaying excessive devotion to certain obvious genre conventions and stereotypes; on the other hand, the weight of subservience only serves to heighten the sensation that something is amiss. Too bad. Nevertheless, for gestalt's sake, it's worth it to be able to observe all the strands in the final act of coming together.
Charles Frauman
½
Well, I had high hopes for this movie, but those hopes very very short-lived. The movie starts out okay, and it looks like it will go somewhere even though there are holes big enough to pilot an Iowa class battleship through. For example, when the main character David and his new friend Angeline are ambushed by rednecks, David gets shot in the arm. His entire forearm should have been shattered, but with a little gauze, he is just fine. Later, the rednecks strike again and Angeline gets one in the face with pepper spray, giving her and David the upper hand. So, David, supposedly a battle-hardened combat vet, does something incredibly stupid. Instead of taking the opportunity to kill the rednecks or at least take their weapons, he decides to run off with Angeline......leaving all their equipment behind. So, something doesn't seem quite right about David's behavior. Eventually David, Angeline, and the two rednecks are taken out by some unseen being in the incredibly foggy woods and they end up tied to tables in what looks like a run-down hospital. So, then there are some gratuitious torture scenes without any explanation. David gets free and sets the rednecks free. The rednecks run into traps and are killed. David explores his surroundings, apparently looking for Angelina. He walks past a portrait of Stalin and then finds some films of Hitler. I guess we are supposed to conclude the torture guy is a Nazi of some kind. Maybe he's a modern day one or maybe he is somehow left over from WWII but didn't age. Whatever, it doesn't really matter. David wakes up in a field hospital in Iraq. Everything was a dream. So, the movie is basically a lame ripoff of Jacob's Ladder, mixed with a little Deliverance, Hostel, and The Hills Have Eyes. It's not worth watching. But it's a foreign film......I should've expected subpar.
Eric La Price
(** 1/2): [img]http://images.rottentomatoes.com/images/user/icons/icon13.gif[/img] I wanted to like it more than I did. It begins well but it falters at the end (especially due to the out of nowhere twist). A near-miss.
TTT C
Shadow Quotes
There are no approved quotes yet for this movie.
Discussion Forum
Discuss Shadow on our Movie forum!