The Walking Dead
(1936)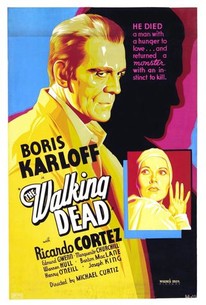 AUDIENCE SCORE
Critic Consensus: No consensus yet.
Movie Info
A reformed criminal is framed and sent to the electric chair, but a scientist uses his corpse as part of his experiments and manages to resurrect him, although only as a vengeance seeking zombie. This was a rare excursion into the horror genre for director Curtis, better known for movies such as Casablanca.
Rating:
G
Genre:
, , ,
Directed By:
Written By:
In Theaters:
Runtime:
Studio:
Warner Bros.
Critic Reviews for The Walking Dead
All Critics (3) | Top Critics (1) | Fresh (3) | Rotten (0)
Horror pictures are a staple commodity, and this one was taken from one of the better shelves.
New York Times
Top Critic
Creaky but entertaining supernatural thriller about bringing back the dead.

Ozus' World Movie Reviews
In film after film, Karloff functioned as a wanderer in the shadow land between life and death. If the movies he inhabited sometimes were considered juvenile, the subject matter that motivated them couldn't have been more adult, more profound.

Commercial Appeal (Memphis, TN)
Audience Reviews for The Walking Dead
Classic creature feature with Karloff as a gentle musician who is wrongly convicted of murder. His revenge, though not intentional, is final. Excellent script, acting, and editing.
Christopher Bergan
Not to be confused with the zombie television series of the same name, Boris Karloff portrays a man falsely accused of murder, sentenced to the death penalty and restored to life by a mad scientist. What is it about Boris Karloff being brought back to life by mad scientists?. It's basically a gangster film until the last half hour--then the scary stuff kicks in. The film is very short -- 70 minutes -- and moves quickly. The film's best moments feature Karloff's zombie rampage which have a touch of irony about them - not least because of the way that every member of the gang dies by his own hand through accident rather than Karloff's. Stand-out scene is definitely the fantastic build up to Karloff's undeserved execution, as sad cello music plays and prison guards banter about baseball while a man's life hangs in the balance. Edmund Gwenn is also effective in one of his earlier roles as the doctor who brings Karloff back to life after he is wrongly executed: obsessed by an urge to learn what goes on after death, he drives Karloff on but the latter's only concern is to get even with the corrupt gang which set him up (including Ricardo Cortez's shady lawyer, Barton MacLane as one of his associates and Joe Sawyer as a hit-man, the real murderer).
John Tandlich
Another excellent outing from Boris Karloff. He plays John Elman, a man framed for murder of a judge and then executed before evidence that could free him is discovered. Dr. Beaumont (Edmund Gwenn) has the means to bring Elman back to life through some Dr. Frankenstein-like experiments, and does so. Beaumont begins questioning Elman about what he saw and experienced "on the other side". Elman remembers little of his situation but sets out to avenge his execution against the men responsible. Karloff's character is very much like the Monster he made famous -- even his makeup job is similar, although much less severe. I had the same empathy for him in this film as in Frankenstein. But he could still make the hairs stand up on your neck -- Elman asking each man who framed him in his strange otherworldly lisp "Why did you have me executed?" was creepy as hell, as was Elman wandering through a cemetery saying "I belong here." RIcardo Cortez had his moments as the lawyer/racketeer responsbile for the Elman's framing. And Barton MacLane was..well... Barton MacLane. A first-class piece of filmmaking, courtesy of Michael Curtiz, who went on to direct Casablanca. As good as it is, I dropped a 1/2 star because of the cheezy last line about "our Lord God is a jealous god." Please. Was that really necessary?
The Walking Dead Quotes
There are no approved quotes yet for this movie.