The Death of Mr. Lazarescu
(2006)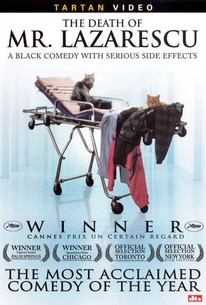 Movie Info
One evening, Mr. Lazarescu, who lives alone, feels a bit dizzy. He finally ends up being driven away in an ambulance, which is the start of a tragicomic odyssey. Each doctor who examines him arrives at an entirely different diagnosis, and his emergency treatment is incessantly postponed. The physicians are deaf to the entreaties of the patient and his friends, and they are devoid of sympathy for the elderly Mr. Lazarescu as he again plunges into the Bucharest night.
News & Interviews for The Death of Mr. Lazarescu
Critic Reviews for The Death of Mr. Lazarescu
Audience Reviews for The Death of Mr. Lazarescu
½
A suffocating and emotionally stressful drama/social commentary that, made with a gripping naturalistic approach, impressed me most with the way it shows how people can be cruel and indifferent to human suffering only to display in the next moment a surprising amount of compassion.
Carlos Magalhães
Super Reviewer
½
this is a good film, but the humor is so dark that you won't find yourself laughing. the cinema verite styling works well with the content, adding to the existential questions raised within the film. if you can't bear hospitals and imminent death, do not attempt to watch this movie.
Stefanie C
Super Reviewer
This film was hard to get through. It was so depressing, I had to watch it in two parts. How any one could call this a comedy is beyond me. Perhaps it is because I have had to deal with the horrible medical insurance in the States. I could Identify with being turned away from hospitals. I didn't find it interesting this the is the most depressing film I have ever seen in my entire life.
Marion Ravenwood
Super Reviewer
The Death of Mr. Lazarescu Quotes
There are no approved quotes yet for this movie.