The Flowers of War
(2011)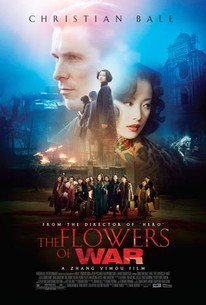 The Flowers of War Photos
Movie Info
In 1937, Nanking stands at the forefront of a war between China and Japan. As the invading Japanese Imperial Army overruns China's capital city, desperate civilians seek refuge behind the nominally protective walls of a western cathedral. Here, John Miller (Christian Bale), an American trapped amidst the chaos of battle and the ensuing occupation takes shelter, joined by a group of innocent schoolgirls and thirteen courtesans, equally determined to escape the horrors taking place outside the church walls. Struggling to survive the violence and persecution wrought by the Japanese army, it is an act of heroism which eventually leads the seemingly disparate group to fight back, risking their lives for the sake of everyone. -- (C) Wrekin Hill
Critic Reviews for The Flowers of War
Audience Reviews for The Flowers of War
½
With astonishing visuals and an impeccable sound design, this compelling war film constitutes, however, an oxymoron of gorgeous ugliness, centered on a most hideous massacre of History whose re-creation needed no stylistic ornaments or artificial revelations.
Carlos Magalhães
Super Reviewer
½
A glimpse of WWII in China through one fallen city, Nanking. Great Film! It's a great movie, very touching. The background is Nanking Massacre, at that cruel and desperate history moment, the director finds a special perspective to show us goodness, hope, sacrifice and humanity. Although I've seen so many war movies before, this one is different. There is no positive way to spin what was a shameful event in Japan's history, and for what it's worth I think that Zhang Yimou delineates well the soldiers occasional insecurity, homesickness, and humanisation brought on by paranoia and pressure from above. A movie well-worth watching, and which I would like to watch for a second time to re- establish which moment are intentionally humorous, which moments are unintentionally humorous, and which moments are tragic. Kudos for Zhang Yimou for tackling such a visited topic (That of the Nanjing massacre) which a freshness, and even more kudos to Christian Bale for stepping up to the plate and giving in a great performance. In 1937 China, during the second Sino-Japanese war, a mortician, John (Christian Bale) arrives at a Catholic church in Nanjing to prepare a priest for burial. Upon arrival he finds himself the lone adult among a group of convent girl students and prostitutes from a nearby brothel. When he finds himself in the unwanted position of protector of both groups from the horrors of the invading Japanese army, he discovers the meaning of sacrifice and honor.
Chinese historical drama war film is definitely worth seeing with British actor Christian Bale. Emotionally and powerful. Highly recommended. The story is about how a dozen of prostitutes saved girl students from uncivilized Japanese soldiers during the Nanjing (Nanking) massacre period, set in 1937. The director Yimou Zhang told a powerful, touching and beautiful story, while delivering stunning visual effects as always. All actors from different countries did an amazing job in making so many strong characters in 3 languages, not just the American 'priest', but also those prostitutes, the boy George, all the children, Japanese officers, and the Chinese 'traitor'. Bale made an excellent performance in this Chinese film and a Chinese leading actress, Ni Ni, is new face and became a new "Mou girl" like Gong Li and Zhang Ziyi.
Dean McKenna
Super Reviewer
The Flowers of War Quotes
There are no approved quotes yet for this movie.