The Fluffer
(2003)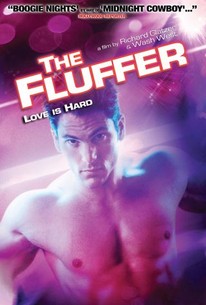 Movie Info
The gay adult film industry is the backdrop for this drama focusing on Sean (Michael Cunio), a young gay man who is looking for a job in the movie business. While trying to rent a video of Citizen Kane, Sean accidentally brings home a video from Men of Janus Productions, an outfit that churns out hardcore porn movies with exclusively male casts, finding himself infatuated with Johnny Rebel (Scott Gurney), the film's hunky leading man. Sean lands a job with Men of Janus helping out the camera crew, but he soon finds himself serving a different function on the set -- he becomes the "fluffer," who helps the actors "warm up" for their sex scenes. Sean is more than happy to be working with Johnny, but he soon makes the surprising discovery that Johnny is straight and only appears in gay porn because he can make more money than in heterosexual sex films. What's more, Sean learns Johnny has a girlfriend, Babylon (Roxanne Day), who works as an exotic dancer and is not enthusiastic about her lover's current career. The Fluffer was written and co-directed by Wash West, who previously shot and directed several hardcore gay films himself.
Critic Reviews for The Fluffer
Audience Reviews for The Fluffer
What on earth did I just watched?? Money and Sex don't go well together, it's the sad truth. None of the characters were likeable and it wasn't graphical enough to be an exploitational film or artistic enough to be an art house. It's one of the worst film since Orgazmo.
Sylvester Kuo
Super Reviewer
½
**1/2 (out of four) Not nearly as bad as expected, "The Fluffer" shows some decent promise, especially early on, but it ends up failing to deliver on that promise as it falls into a more routine and bland resolution. A young man moves to Hollywood in hopes of becoming a camera man. He gets a job working on a porn film in order to be near the womn he likes. He ends up with the odd job of being a fluffer Johnny Rebel, a leading porn actor.
Steve Smith
It has been awhile since I have seen this movie. I remember it quite well though, which speaks pretty highly of the movie I assume. Money is so seductive. I have always wondered about the whole gay for pay thing. I just don't get it. Anyway the characters here are real and complex, even if the writing isn't the greatest, I think the actors bring all of their angst to each character. As the "FLUFFED" spirals out of control I did feel a sense of empathy for him. It was just enough to make me care about the rest of the characters.
Bobby Steele
The Fluffer Quotes
There are no approved quotes yet for this movie.
Discussion Forum
Discuss The Fluffer on our Movie forum!