The George McKenna Story
(1986)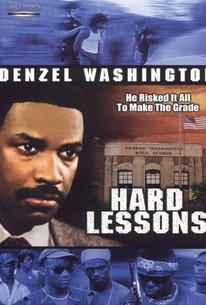 AUDIENCE SCORE
Critic Consensus: No consensus yet.
Movie Info
This made-for-TV drama was based on the true story of George McKenna (played by Denzel Washington in one of his first leading roles), an educator in Los Angeles who faced the greatest challenge of his career when he was named Principal of George Washington Memorial High School. Located in a run-down inner-city neighborhood, Washington High was being torn apart by gang violence and drug dealing, and much of the student body seemed more interested in surviving the day than in learning. McKenna was determined to make Washington High a safe place where students could get a quality education which would allow them to go to college if they so desired, but he soon realized he was facing an uphill battle, having to deal not only with gangs and delinquent students, but apathetic teachers and parents too busy or unconcerned to help in the education of their kids. The George McKenna Story also stars Lynn Whitfield, Debra Artis, and Richard Masur; after Denzel Washington's later rise to superstar status, the film was rereleased on home video under the title Hard Lessons.
Critic Reviews for The George McKenna Story
All Critics (2) | Fresh (0) | Rotten (2)
Em seu último papel numa produção feita para a televisão, Washington demonstra carisma e intensidade, mas a montagem amadora, a trilha insuportável e o roteiro repleto de clichês anulam seus esforços.

Stand and Deliver still stands (no pun intended) as the only worthwhile entry into this genre, sad to say.

Audience Reviews for The George McKenna Story
½
A generic "tough principal turns around a failing and tumultuous high school" movie shows us an early glimpse of the great Denzel Washington.
Jonathan Carlson
Amazing film!! It was engaging and intense!! The film showed how one man will do anything to make a situation better!! The scenes about making everything better was engaging!! This was Denzel Washington's last TV movie and he did not disappoint!! He was terrific as the main protagonist!!
Johnny Roman
Are you afraid of our children? George McKenna is a first time principle that has been assigned to George Washington high school in the Los Angeles ghetto. The students are out of control, the teachers are below par, and the inmates run the asylum. McKenna comes in with his ideals but quickly learns change takes patience and he needs to impact one student at a time until they all buy in. "What you have is a damn fine son!!!" Eric Laneuville, director of The Client List, Naughty or Nice, LA Confidential, Bad Girls, Secret Whiteness, The Knife and Gun Club, and Bad Girls, delivers Hard Lessons. The storyline for this picture is fairly straightforward and on par with most films in this genre (Lean on Me). The acting is pretty good and the cast includes Denzel Washington, Lynn Whitfield, Earl Billings, Akosua Busia, and Gregg Dandridge. "I can't read." "We can change that." "I don't want to." We actually had a visitor over I knew was a huge Denzel Washington fan so I had this on for her when she came over. We watched it and found it fairly predictable and straightforward. It was fun watching Denzel try to prove he could be the lead character in a film (this was one of his first ever lead performances). I would say this was about average and as you'd expect from the genre. I wouldn't go out of my way to see this but Denzel was solid in this film. "What's your problem, they're not following fast enough?" Grade: C+
Kevin Robbins
The George McKenna Story Quotes
There are no approved quotes yet for this movie.
Discussion Forum
Discuss The George McKenna Story on our Movie forum!