The Host
(2013)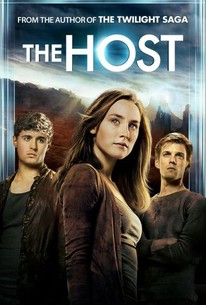 TOMATOMETER
AUDIENCE SCORE
Critic Consensus: Poorly scripted and dramatically ineffective, The Host is mostly stale and tedious, with moments of unintentional hilarity.
Movie Info
What if everything you love was taken from you in the blink of an eye? "The Host" is the next epic love story from the creator of the "Twilight Saga," worldwide bestselling author, Stephenie Meyer. When an unseen enemy threatens mankind by taking over their bodies and erasing their memories, Melanie Stryder (Saoirse Ronan) will risk everything to protect the people she cares most about - Jared (Max Irons), Ian (Jake Abel), her brother Jamie (Chandler Canterbury) and her Uncle Jeb (William Hurt) , proving that love can conquer all in a dangerous new world.
News & Interviews for The Host
Critic Reviews for The Host
Audience Reviews for The Host
After an alien species has taken over her' body, a girl resists her invader and joins a group of humans looking to overthrow the aliens. Convoluted and cliche, this film is uninspired in every way. The rival boys, a bland recasting of Jacob and Edward without all the sparkling personality, are indistinguishable in looks and character, and Melanie doesn't emerge as unique. The plot plods along predictably, and the characters remain undeveloped. William Hurt, the sole reason I sat through this film, delivers a fine performance. He can't be blamed, but it's sad that even in The Village he got a great monologue that served to be worthy of his talents but in this film there's not a single inspired moment. Overall, what will it take for all of us to agree that Stephanie Meyer sucks.
Jim Hunter
Super Reviewer
½
Had heard some pretty awful things about this movie, so I was a little reluctant to watch it. However I was on a 7 hour flight and had seen most of the other films of interest, so... Actually, I don't mind Twilight, so I wasn't put off by the Stephanie Meyer thing. It's a little long, and wooden in places, but I found this decent. I had read the book, and honestly, I couldn't even see how they would be able to make a film of it with much of it bring conflict between one body with two souls. Sairose does a good job considering. Good suspense sci fi with love triangle. Kept me interested.
Nicki Marie
Super Reviewer
Choose to believe. Choose to fight. Choose to love. Choose to listen. Very good film! This movie you will either enjoy or hate to be honest. If you want something that is action-packed and filled with cool sci-fi moments do not see this movie. Yes the movie is sci-fi but it's more about romance. It also is a tad slower. There were cheesy moments but it was still really sweet and well done. Basically what I am saying, is if you like romance with a twist go and see it! If you are expecting something like Gattaca, you will be disappointed. The cinematography was awesome from the desert scenes to the futuristic. Finally Saoirse Ronan just killed it, specially the way she tells the story, you are connected to the movie soon and enjoy watching it, I remember her play in "the lovely bones" she is more mature now and always she's been consistent and so talented actress. While there are no vast battles and the setup of the resolution is slightly confusing, I still greatly enjoyed this thoughtful film. A race of aliens who are non corporeal go from planet to planet looking for hosts. They come to Earth and basically take over human bodies. Now it's believed that once they take over a body all memories of the previous inhabitant are gone. And there are some humans who have remain hidden from them and are basically a resistance movement. So an alien charged with locating them known as the Seeker captures one of them a girl named Melanie and puts one of them who is known as Wanderer in her body, in hopes of finding out where the humans are. But Melanie for some reason is still there and she convinces Wanderer not to say anything to Seeker. Wanderer feels empathy for the humans. When Seeker is disappointed at her lack of progress, she informs Wanderer that she'll be removed and placed in a new host and she will be placed in Melanie. Melanie knowing she can't convince her the way she convinced Wanderer convinces Wsnderer to run away and they can meet with the humans. Eventually they find them but only want to kill her but Jeb, Melanie's uncle for some reason doesn't want to. Jared, Melanie's boyfriend wants her dead too. But Ian someone Jeb tasked with keeping her safe finds himself attracted to her but Melanie won't allow it because she wants to go back to Jared. But how do they get Wanderer out of her. And Seeker is trying to find her.
The Host Quotes
| | |
| --- | --- |
| Jeb: | I always liked Science-Fiction stories; never dreamed I'd be living in one. |
| Wanderer: | Be happy Mel that after living so many lives, I've finally found something to die for. |
| | |
| --- | --- |
| Ian: | "You are not leaving me" |
| Ian: | You are not leaving me. |
Discussion Forum
Discuss The Host on our Movie forum!