The Meg
(2018)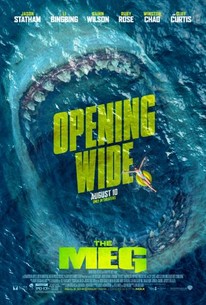 TOMATOMETER
AUDIENCE SCORE
Critic Consensus: The Meg sets audiences up for a good old-fashioned B-movie creature feature, but lacks the genre thrills -- or the cheesy bite -- to make it worth diving in.
Movie Info
A deep-sea submersible--part of an international undersea observation program--has been attacked by a massive creature, previously thought to be extinct, and now lies disabled at the bottom of the deepest trench in the Pacific... with its crew trapped inside. With time running out, expert deep sea rescue diver Jonas Taylor (Jason Statham) is recruited by a visionary Chinese oceanographer (Winston Chao), against the wishes of his daughter Suyin (Li Bingbing), to save the crew--and the ocean itself--from this unstoppable threat: a pre-historic 75-foot-long shark known as the Megalodon. What no one could have imagined is that, years before, Taylor had encountered this same terrifying creature. Now, teamed with Suyin, he must confront his fears and risk his own life to save everyone trapped below.
News & Interviews for The Meg
Critic Reviews for The Meg
Audience Reviews for The Meg
½
Until films like Sharknado put a new spin on shark attack movies, Jaws was the best there was and ever will be. With the recent release of The Meg, I didn't have any hopes that it would come anywhere near the original, nor should anyone reading this, but if you're looking for a dumb movie to check out this summer, you can definitely do worse than The Meg. It's not exactly a good film by any means, but it's perfectly fine to turn your brain off every now and then in order to be excited by a film that has zero cleverness. Here's why I believe The Meg may impress you in terms of excitement, but only if you know what you're getting yourself into. Discovering that there is more to the ocean than just what people have seen (which is already ridiculous, to begin with), a team of divers go to the depths that nobody has in the past. Learning that there are larger-than-life creatures living down there, one of them escapes, in the form of a giant Megalodon shark. Attacking everything in its path as it tries to prey on the weak, this film becomes the dumb blockbuster you would hope it would be, but not soon enough. The cast is filled with talented actors/actresses, from Jason Statham to Li Bingbing, everyone delivers solid enough performances for this type of film. That being said, the unlikely pairing of young Shuya Sophia Cai and Jason Statham was easily the highlight of the movie in my eyes. Their fun chemistry throughout the course of the movie is what kept a smile on my face. The humanity is definitely present here, but you go into a movie like this to see awesome shark action, and although it's not as crazy as it could be with an R-rating, it still delivers some very cool sequences. Many viewers will be going to see this film in order to witness Statham going toe-to-toe with a giant shark and I can say with confidence that there are moments that will surely give you satisfaction. Sadly, the climax itself doesn't feel long enough in comparison with the very drawn-out build-up to that point. On top of the slow build-up, the characterization of everyone is very one-note and quite frankly, forgettable. From Rain Wilson to Cliff Curtis, even though they deliver solid performances, the characters throughout this film are incredibly predictable. The people you don't think will make it, don't, and vice versa. There isn't a single moment of real tension, because you can see everything coming from a mile away. The visual effects make up for the dumb characters and ridiculous premise, but it really isn't enough to warrant a recommendation in the end. The Meg is held up on a pedestal by the numerous talents throughout the cast and the action itself is awesome when it does come into the forefront, but it was too little, too late, at least for me. If you want to check out a fun action flick with Jason Statham fighting a shark, then I would absolutely recommend it for that, but if you're looking for another film as great as the original Jaws, I would look elsewhere. I would be lying if I said I didn't have a bit of fun watching this movie, but as a whole, it really does feel like a lazy attempt to sell a giant shark film to an audience. As a film this movie is terrible, but due to the fact that it knows exactly what it's trying to be, it's watchable. That's not really a recommendation, but if that sounds like something up your alley, I'd say give it a shot.
The Meg Quotes
There are no approved quotes yet for this movie.