The Robber
(2011)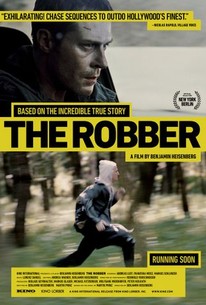 Movie Info
Directed by Benjamin Heisenberg (Sleeper) and starring established actor Andreas Lust (Revanche), The Robber is slated to open in New York City on April 29, 2011, at the Lincoln Plaza and Cinema Village. The film will expand to other US and Canadian markets during the spring and summer of 2011. Based on a novel by the Austrian author Martin Prinz, and shot on location in Vienna, The Robber was one of the most critically acclaimed films featured at last year's New York Film Festival. The film was also an official selection at the 2010 Berlin and Toronto Film Festivals. The film's main character, Johann Rettenberger, was inspired by the life of Austrian bank-robber and runner Johann Kastenberger, a man who set records in long-distance races while - in the rest of his free time - secretly knocked over bank after bank. Widely referred to as "Pump-gun Ronnie," after the Ronald Reagan mask he wore and the shotgun used on the assaults, Rettenberger still holds the record time in the Bergmarathon, a famous race held in the Austrian Alps. Deprived of by-the-books psychological motivations and character development, The Robber paints a visceral picture of pathological compulsion and it is the rare character portrait that also excels as an action film. -- (C) Kino
News & Interviews for The Robber
Critic Reviews for The Robber
Audience Reviews for The Robber
½
In "The Robber," Johann Rettenberger(Andreas Lust) is released from jail. Apparently he did not learn his lesson, because it takes him about eight minutes before he returns to his life of crime by stealing a car and robbing a bank. He might want to reconsider this when he earns about 15,000 euros in prize money by running so well in the Vienna Marathon. Even then, his parole officer(Markus Schleinzer) is less than impressed. Not so for Erika(Franziska Weisz), an old family friend who invites him to stay with her until he finds a place of his own. At its best, "The Robber" is confirmation for people who think there is something seriously wrong with people who run in marathons.(The first guy who ran 26.2 miles died and everybody thinks it is a good idea?) In fact, Johann seems to be the poster child for compulsive behavior as he is either unable or unwilling to stop himself, just as some characters show how stupid they can be at times. But that is as far as we get into his head, as he remains frustratingly a cipher throughout the movie which just goes in circles.
Johann: This is a hold up, let's go. The Robber may sound like a standard bank robbery/action film from the title and the plot summary, but it is anything but that. For the most part, this is an extremely quiet and slow moving Austrian film. A lot of the runtime is filled watching Johann do different things. He may be training, he may be sitting, he may be "talking" with someone. The film isn't the exciting adrenaline rush you may think it is.  The Robber follows Johann who is recently released from prison where he was for trying to rob a bank. He's also a runner. He was training the whole time he was in prison. When he gets out, he does marathons and he robs banks. There are some good chase sequences, but they aren't what I'd call "exciting" or "pulse pounding."  Johann actually quite a boring character. He barely speaks, and when he does it is very dull. Since Johann is our character, who the whole movie is based around; the movie comes off as dull because of that. Now I don't want you to get to much of a wrong impression. The film is pretty well made. It's smart and the ending is extremely well done. I just can't get over the fact that the movie was really, really dull. I was bored basically the whole movie. There are interesting parts, like the chases and like the robberies; but in between is boredom. The relationship between Johann and Erika is poorly done. Erika is also nearly as dull as Johann.  This is a decent little film that should have been lightyears better. It could and should have been great, but it wasted a lot of its potential. I'm not saying I needed it to be a standard action film, but if you're not going for action, go for something. Nothing is explored here all that much. It's lacking in plot, character, and just about everything else. Yet, it has a watchability factor to it and it is well made, technically speaking. I guess I'm trying to say it is okay, but still a disappointment.
Melvin White
Super Reviewer
"I love you, Hans." Tells the true story of Johann Rettenberger, a marathon athlete who developed robbing banks as a hobby.
REVIEW
Johann is neither a likable person nor is a crazed criminal psychopath which leads the viewer to a unusual predicament in that you start to almost barrack for him. He never hurts anyone, just robs banks and in the interim goes running in marathons. In his face mask and plain clothes, he doesn't even look like he'd hurt a fly. Of course things turn nasty and caught up in the picture is a woman Erika, she, like the audience as events get worse are left with the moral dilemma of choosing an outcome for Johann. Should he get away with it or be caught and serve time? Johann himself never really expresses any real emotion so there is little to understand why he should do what he does, but this adds to the film as it gives the audience more intrigue without throwing in too many questions. Stylishly the film looks great, some beautiful scenery during one of the marathons are great. And then there are the running sequences, Johann runs a lot, to bank robberies, from robberies and then just for the hell of it. Director Benjamin Heisenberg uses some great camera work to follow Johann on these runs and in one sequence when he is chased by a cop car through a car park, the editing is effective enough to create a tense exciting sequence. The films ends with quietly, in some ways rather sadly, but others may find it a little too predictable. However the film is a great piece of work that makes the audience question itself and it's attitude towards others.
Lorenzo von Matterhorn
Super Reviewer
The Robber Quotes
There are no approved quotes yet for this movie.