The Sisters
(2006)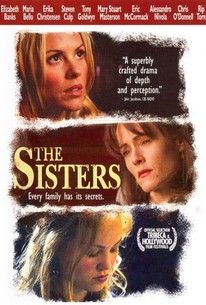 Movie Info
In a college in Manhattan, three sisters and a brother, who yearn for the simpler life their family left behind in Charleston, reveal their family secrets and self-deceptions with wit and candor, culminating in a moment of physical and emotional violence.
People Who Like this movie also like
Critic Reviews for The Sisters
Audience Reviews for The Sisters
Good cast and fine acting but so full of bitterness and hate it's impossible to like.
Inspired by (I'm loathe to say "based on") Chekhov's play Three Sisters, a family struggles with drug addiction, sexual abuse, and infidelity. Oh, Maria Bello. I first saw you in A History of Violence, and since then I've never forgotten you. You are one of this generation's finest actors, and every time I see you, you surprise me. So, why do you keep doing such shitty movies? I liked the fact that this film's dialogue is intelligently written; these characters sound like intellectuals arguing, using polysyllabic words like razors. But the story, which in the source material is beautifully understated, got twisted into an oppressive melodrama, and when each new element of modern salacious psychological damage is added, the film becomes a parade of Jerry Springer family neuroses and loses its heart as a character drama that is essentially about people trying to figure out how to love each other in spite of each other. I agree with Roger Ebert who stated that the same cast would have been perfect in the Chekhov play, but what director Arthur Allen Seidelman did to the Russian master's work should be as criminal as what happened to Nathanial Hawthorne's Scarlett Letter. Overall, Maria Bello is always worth watching, but if you've never seen Chekhov, then don't think this is what he's about - all the more reason to go to the real theater.
Jim Hunter
Super Reviewer
this adaptation of chekov's play is a stylized, yet pretentious, psycological drama of another family putting the fun in dysfunction. strong performance by maria bello pulls the additional half star rating.
Stefanie C
Super Reviewer
The Sisters Quotes
There are no approved quotes yet for this movie.