Them
(2007)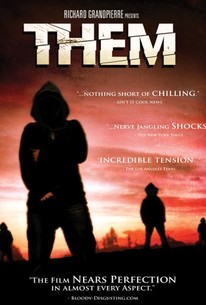 TOMATOMETER
AUDIENCE SCORE
Critic Consensus: Suspenseful and tense from start to finish, the French horror film Them proves that a lack of gore doesn't mean a dearth of scares.
Movie Info
A young couple lead a happy, quiet life in the countryside. But little do they know they're being surrounded. When night falls, the couple will come face to face with THEM. They are everywhere, even in their home. Who are they? What do they want? The answers will take them to the very limits of fear itself.
News & Interviews for Them
Audience Reviews for Them
½
The story and the starting of the movie looked and sounded like it was going to be something very scary. But it wasn't. I must say that this was a bit creepy until I found out who was them (and that blew me away....far far away). What irritated me a bit was when that woman was making a whole lot of noise when she was in the attic. That was pretty cheap move don't you think? I think it was a decent movie. The ending was
.
Dead Angel
Super Reviewer
½
From the opening kill sequence, Them sets up a rule that it will maintain straight through its 76 minute running time: the ability for the victims to see their attackers is limited to the sides of the frame. The rule works to set up suspense, but in a practical standpoint, it creates a ridiculous amount of illogical sequences where any real person, including the blind, could see the killers coming from a mile away. Writer/directors David Moreau and Xavier Palud have decided to stand apart from their extremely gory French horror art house siblings, opting for a more Hitchcockian approach where very little violence happens onscreen and most of the film's suspense comes from the long, stretched out periods of silence before the onslaught. This is perhaps the film's greatest strength, and its first 40 minutes continue the promise of a unique, edge of your seat home invasion thriller. And then as the final act slowly approaches, things go awry. Clementine (Olivia Bonamy) and Lucas (Michael Cohen) play a young married couple new to Bucharest. They find a secluded home where they can have peace and quiet. Problem: Who in their right mind buys a big house in the middle of nowhere especially when they're new to the country? Maybe they have their reasons, but the film never explains why they decide to do this, and I can't relate to it because anyone I know who's moved to Toronto from another country has bought a place in the heart of the city, or as close to their work as possible. Without any reason, this secluded farm house seems too much like a horror movie cliche. But forget about that. Home invasion movies almost always involve busted phone lines, power outages and a chase into the woods, and Them is no different. As mentioned before, the killers are rarely seen onscreen, yet they're everywhere and anywhere. But unless you're in a horror movie, I don't know how you can stand alone in the middle of the woods, quietly look around, and not hear someone come up behind you. Leaves and twigs make a lot of noise. The fight or flight paradigm that Clementine and Lucas find themselves in becomes more of a fight against physics and logic. I can't see how killers can know every nook and cranny of a house better than the tenants. I really feel for these characters because the script has found every contrived way to stack the odds against their chance of survival, so Them becomes more of an exercise in plot manipulation than minimalist horror.
Edward Boxler
Super Reviewer
Don't know why i wanted to watch this movie but it seriously wasnt worth my time. It wasnt a good horror at all, and i just didnt find it at all enjoyable.
Film Crazy
Super Reviewer
Them Quotes
There are no approved quotes yet for this movie.