Timbuktu
(2015)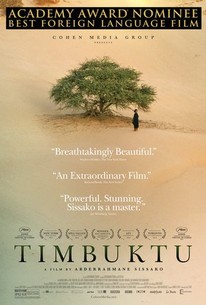 Movie Info
Not far from the ancient Malian city of Timbuktu, now ruled by the religious fundamentalists, proud cattle herder Kidane (Ibrahim Ahmed aka Pino) lives peacefully in the dunes with his wife Satima (Toulou Kiki), his daughter Toya (Layla Walet Mohamed), and Issan (Mehdi Ag Mohamed), their twelve-year-old shepherd. In town, the people suffer, powerless, from the regime of terror imposed by the Jihadists determined to control their faith. Music, laughter, cigarettes, even soccer have been banned. The women have become shadows but resist with dignity. Every day, the new improvised courts issue tragic and absurd sentences. Kidane and his family are being spared the chaos that prevails in Timbuktu. But their destiny changes abruptly in this stunningly rendered film from a master of world cinema. (C) CohenMedia
News & Interviews for Timbuktu
Critic Reviews for Timbuktu
Audience Reviews for Timbuktu
½
Arabic (mostly) with subtitles Directed by the writer Abderrahmane Sissako, the film shows the imposition of Isis as it arrives in Timbuktu and the surrounding desert. It's very quietly spoken film with no gratuitous violence, and no particular central character either. The jihadist impose their arbitary rules with the force of the gun behind them. The villagers and the herdsmen in the desert just want to get on with their daily life, quietly pious and friendly to each other. A jihadist declares with loudspeaker - all women must wear gloves and socks, no music, no football and yet they walk into a mosque with boots and guns and are castigated by the immam, but they don't listen. There is some defiance though - a jihadist comes up to a spirited woman selling fish and they try and insist she wears gloves, but she tells them she must use her bare hands to handle fish and challenges them to cut off her hands instead. They don't. Football is banned, but later we see youths seemingly playing football in a field,running about and scoring goals and cheering to themselves - a motorcycle with a pair of gun-toting jihadist come towards them - but they can't do anything as there is no actual ball, they all are playing with an imaginary ball. There is arbitary punishment - in once scene a group of friends are quietly singing in their house and the jihadist crash in and arrest them, this results in 80 lashes in a public square. In another scene, the jihadist leader has 'given' a bride to one of his soldiers, without the parent's consent. They object and the immam implores with the leader that it is not legal. To no effect. The film does not have a definite ending as such, implying that we are just dropping in to something that is still going on.
Cigs Jones
A devastating portrait of religious hell as a place under the rule of jihadists who employ abuse, intimidation and horrendous punishments on those who disobey their abominable laws - proof that, as Steven Weinberg said it, "for good people to do evil things, that takes religion."
Carlos Magalhães
Super Reviewer
The film's narrative proves to be a strong argument against religious extremism (essentially by arguing that no one could ever follow such strict rules to the letter, even those enforcing them) despite never feeling that it has an ax to grind.
Alec Barniskis
Super Reviewer
Discussion Forum
Discuss Timbuktu on our Movie forum!