Titanic: The Animated Movie
(2001)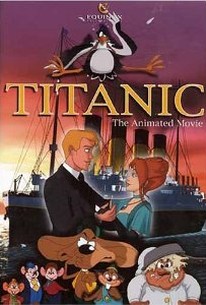 AUDIENCE SCORE
Critic Consensus: No consensus yet.
Movie Info
Child-friendly ending assures everyone is rescued and lives happily ever after! Set sail aboard the famous ship Titanic, where you will meet many lovable characters as they embark on a fun-filled adventure across the sea! Meet Angelica a young, beautiful girl who dreams of meeting her prince charming. Sir William Greenfield a rich and handsome yet shy and modest Scottish nobleman. Corynthia Meanstreak an able swindler who is aided by her two clumsy nephews Kirk and Dirk. And of course we can't forget all the lovable Animals who populate the Titanic and will tell their own stories. Maxie the mouse, Geoffrey the cat, Danny the Dalmatian, Hector the Magpie and more!! Together these characters conjure up delightful entertainment for kids of all ages!As it happened in the real story, the Titanic will hit the iceberg but only to determine the beginning of a new life full of hope for everybody!! Filled with hilarious antics, fun music and enchanting characters this movie is sure to be a hit with the entire family!
Critic Reviews for Titanic: The Animated Movie
There are no critic reviews yet for Titanic: The Animated Movie. Keep checking Rotten Tomatoes for updates!
Audience Reviews for Titanic: The Animated Movie
½
"Party time! It's party time! Everybody's feelin' fine 'cause it's party time!" Titanic: The Legend Goes On... is a mildly inappropriate and poorly made animated film that tells a Cinderella story aboard the ill-fated luxury liner. When a young orphaned girl named Angelica meets a rich and handsome young man named William, the two fall in love while traveling on the Titanic; meanwhile an elderly dowager works with a pair of bumbling thieves to rob first class passengers. The animation is substandard, with rather generic and cartoonish looking character designs. And the script is incredibly weak, doing very little character building and leaving tons of loose plot threads. At times it kind of works and is fun to laugh at (there's a rapping dog for goodness sake), but Titanic: The Legend Goes On... is just too much of a mess to really enjoy.
Dann Michalski
Super Reviewer
I found out that there's an animated feature film of Titanic. I couldn't believe such a horrible thing could exist, but I've seen it with my own eyes and it's nothing like you expected. So without further delays, I'll tell you what I hated about this. The actual title is Titanic: The Legend Goes On..., a very misleading title since the ending is the only time we see events taking place after the tragic event. The plot it.... for some reason felt it should have added racist Mexican mice and a rapping dog. A RAPPING DOG is in a Titanic movie? Do those two things even sound like they belong in the same sentence let alone on film. Unfortunately I kept watching despite watching the worst rap number ever, and it somehow manages to rip off James Cameron Titanic and Cinderella. In which it's told in flashback, has a evil stepmother with two selfish stepsister, our character borrowing fancy clothing, and even a blue locket. The originality of this movie amazes me. Not only does this have a rapping dog, rips off two movies, but it has an happy ending. Yes you read that correctly, a happy ending including the words "Happily ever after". This is just the beginning, I still haven't told you other things that were wrong with this. There's literally no words to express how poorly the romance between the two leading character is. They first meet when they bumped into each other on the ship and exchange I think like one line of dialogue. Then the second time our love birds meet they have a very, very, very short exchange of dialogue. Then when it comes time for our two love birds to dance together, they have a flashback of all the time they spent together. Only two scenes are shown of them together before the flashbacks over. Wow is this the most poorly written romance in any movie. I would say something about the comic reliefs, but it's simply insulting. You think after the Titanic sink and we see our passenger paddling away from the disaster it pay would have pay some respect, insert unfunny faces and it takes away all respect it had for the tragedy. Anything else worth adding, well in beginning instead of showing us the drowning of the Titanic it focuses on people paddling away from it. So this animated feature of Titanic has talking animals, pointless subplots (they're simply filler), a rapping dog (can't get over that), and a happy ending. And who made this? The Italians, oh, I now understand why I never heard anyone talking about there animated features. Titanic: The Legend Goes On..., should not exist simply for wanting to cash in on a tragic event in history in such a soulless manner. This is the most insulting movie about the Titanic ever made. Note: This review marks my 200Th review and while I might have wanted talk about a good movie. This movie existence is odd in the world of cinema so I couldn't pass it up. It rare to even find a physical copy of it, I imagine they will be harder since I blew up the only copy in the state Washington of with fireworks. I will keep watching the best and worst cinema has to offer because, I'm a Maniac. Thanks you so much for reading and commenting on past reviews.
Caesar Mendez
Super Reviewer
This movie is just awful. It's not even worthy of half a star. There are a large number of reasons to hate it. Let's start with the main problem: The main plot revolves around two people of different social classes who fall in love on the Titanic. Sound familar? As you guessed, it's a rip-off of James Cameron's Titanic, except the romance in this version is less believable. Seriously, the main characters share about four lines of dialogue before falling in love with eachother. And yes, this version has something even worse than the whole rip-off concept. It's full of talking animals, including a rapping dog...Try and let that sink in. Rap in 1912? Glad the movie is being consistent. But wait, it gets worse: During the scenes involving the sinking of the Titanic, they actually try to add comic relief. Yep, when people are drowning and losing their lives, the director actually tries to get the audience to laugh. That's like going to a funeral and trying to promote a new joke shop you just opened. Now back to the rip-off concept; the story of the sinking is told via flashback, the poor person has to borrow fancy clothing from a rich person to attend a fancy dinner, a valuable diamond even makes an appearance. Bad animation, awful voice acting, terrible premise amd just all around despicable.
Tyler Robertson
Super Reviewer
Titanic: The Animated Movie Quotes
There are no approved quotes yet for this movie.
Discussion Forum
Discuss Titanic: The Animated Movie on our Movie forum!