Violent Saturday
(1955)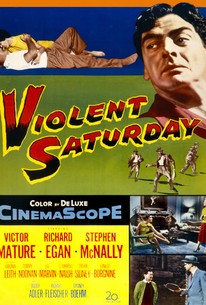 Movie Info
In this film, three bank robbers case a small Arizona mining town prior to pulling a hold-up, and the audience gets to know the various townsfolk as they're scrutinized by the crooks. A pacifistic Amish farmer is forced to take action when his children are threatened by the criminals.
Critic Reviews for Violent Saturday
All Critics (5) | Top Critics (2) | Fresh (4) | Rotten (1)
The cast is a museum exhibit on the nigh-extinct art of scaled-in American bit acting, with the magnificent Sylvia Sidney as the daughter of a prominent family brought low, her flashing pridefulness intact, and Tommy Noonan as a peeping poltroon.
February 27, 2008
... Ernest Borgnine as a pacifist Amish farmer plunging a pitchfork into the back of the devil character played by Lee Marvin ....
Violent Saturday seems rooted in tradition, but as an exciting pulp story with a profound center, it manages to break all the rules.
February 27, 2008
Audience Reviews for Violent Saturday
pretty great, like sirk meets siegel, or peyton place with armed robbery. gorgeous wide screen technicolor too
Stella Dallas
Super Reviewer
Some really great colors and compositions. "Stick these in your kisser and go suck on 'em. Now go back to your mother."
Violent Saturday Quotes
There are no approved quotes yet for this movie.