The War on Democracy
(2007)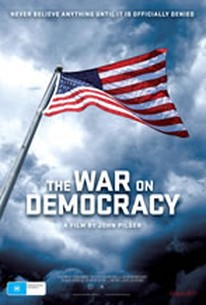 Movie Info
The groundbreaking leftwing journalists-cum-filmmakers Chris Martin and John Pilger helm the muckraking social activist documentary The War on Democracy - an unflinching dissection and evisceration of U.S. policies in Latin America during the second half of the 20th century. Beginning with interviewee Hugo Chávez's U.S.-suppressed attempts at Venezuelan social reform, and moving forward to such events as the 1954 CIA-backed overthrow of Jacobo Guzman in Guatemala and the U.S. government's decision to support the death squads in El Salvador during the late 1970s and early 1980s, Pilger and Martin hauntingly demonstrate the United States' aggressive attempts to thwart and squelch democratic movements in the Third World. Additional interviewees include: U.S. congressman José Serrano, former U.S. ambassador to Chilé Nathaniel Davis and historian Greg Grandin, among others. ~ Nathan Southern, Rovi
Critic Reviews for The War on Democracy
Audience Reviews for The War on Democracy
Amazing documentary about the truth about the one of the most controversial figures in the modern history - Hugo Chavez, and the role of the US government in killing the real democracy in Venezuela! Someone wrote about the movie: "You poor poor sheep! you sleep sleep sleep! Why wont you wake, the world is waiting for you, your mothers raped and murdered, your little sisters raped and murdered, your fathers raped and murdered, you sons, uncles, the world is raped and murdered. But the coke is sweet and pizza is good; the porn is hard and the music rocks..." This documentary hits you hard with the truth about the role of the "democratic" forces in destroying the real forces chosen by the democratic governments! There is no rules... everything is in play, destroying dreams through economical measures, napalm bombing of innocent countries, snipers, death squads... name it, they used it! Actually, they still use it! John Pilger YOU did a great job... I salute you!
The War on Democracy Quotes
There are no approved quotes yet for this movie.