Waterloo Bridge
(1940)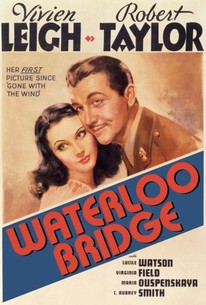 Movie Info
In this film, Robert Taylor, a British officer from a wealthy family, falls in love with ballerina Vivien Leigh. Taylor's uncle reluctantly agrees to the upcoming marriage. When Taylor marches off to war, Vivien abandons an important dance recital to bid her fiance goodbye, losing her job as a result.
Critic Reviews for Waterloo Bridge
All Critics (5) | Top Critics (1) | Fresh (4) | Rotten (1) | DVD (1)
Let there be no doubt about it. Vivien Leigh is as fine an actress as we have on the screen today. Maybe even the finest, and that's a lot to say.

A glossy MGM weeper. A chick flick from the golden era.
November 3, 2002 | Rating: 2/5
Glossy, sanitized remake of the brilliant 1931 James Whale film
July 30, 2002 | Rating: 3/5
Audience Reviews for Waterloo Bridge
I don't understand Myra! If only she had read the column carefully. And why didn't she tell her future mother in law? And why did the mother in law give up on her so easily? Why didn't she tell the truth and beg for forgiveness? If he loved her, her past wouldn't have mattered to him. I saw the ending coming from a mile away. What a depressing movie yet very well done!
Dannielle Albert
Super Reviewer
I love tragic romances, and this is one of the best. A tearjerker about a WWI soldier (played by the BEAUTIFUL Robert Taylor), and the woman he loves (played by the almost as beautiful Vivien Leigh), who meet during an air raid in London, but then are separated by the same war that brought them together. It is also a good example of the damage the English class system of the time could do to relationships under the guise of "trying to help" and "it's for the best", and also the sacrifices people are willing to make for the ones they love. I loved this film, and I plan to re-watch it at every opportunity.
½
Classic romantic trajedy. Vivien Leigh is outstanding.
Waterloo Bridge Quotes
There are no approved quotes yet for this movie.