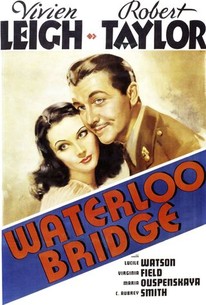 Waterloo Bridge
1940, Romance, 1h 43m
5 Reviews
2,500+ Ratings
Where to watch
Rent/buy
Rent/buy
Rate And Review
Movie Info
At the onset of World War I, British officer Roy Cronin (Robert Taylor) and ballerina Myra (Vivien Leigh) meet and fall in love. As fate would have it, Cronin is called to active duty shortly thereafter. When Cronin's departure coincides with a performance, Myra chooses to skip the ballet to see her love leave. As a result, she is dismissed from the ballet and struggles to make ends meet -- and when she reads of Cronin's misreported death, Myra hits rock bottom, resorting to prostitution.
Audience Reviews for Waterloo Bridge
Vivian Leigh's next effort after GWTW is a straight-up chick flick on steroids (and very nearly an ad for Uber delivered Häagen Dazs) as she plays a ballerina who meets boy (Robert Taylor, one-note as the cliché perfect match ~ he always thinks of her, he never makes a mistake), loses boy, then gets boy again. It's heavily bolstered by music playing softly in the background, music as familiar to you as the holiday songbook repertoire. And you know where the story's going a long time before the train arrives at the station, but Leigh gives such a nuanced performance that you stick around to watch her work it. Good stuff.

I don't understand Myra! If only she had read the column carefully. And why didn't she tell her future mother in law? And why did the mother in law give up on her so easily? Why didn't she tell the truth and beg for forgiveness? If he loved her, her past wouldn't have mattered to him. I saw the ending coming from a mile away. What a depressing movie yet very well done!

A classic romance starring Robert Taylor and Vivien Leigh. Roy and Myra meet during an air raid. They agree to marry after he comes back from the front, but when Roy is mistaken for dead Myra has to turn to prostitution to survive. Overall a very good film although one thing did annoy me, it's set during WW1 yet the characters have 1940s clothes and hairstyles!

I love tragic romances, and this is one of the best. A tearjerker about a WWI soldier (played by the BEAUTIFUL Robert Taylor), and the woman he loves (played by the almost as beautiful Vivien Leigh), who meet during an air raid in London, but then are separated by the same war that brought them together. It is also a good example of the damage the English class system of the time could do to relationships under the guise of "trying to help" and "it's for the best", and also the sacrifices people are willing to make for the ones they love. I loved this film, and I plan to re-watch it at every opportunity.
See Details