Whatever Happened To...?
(1991)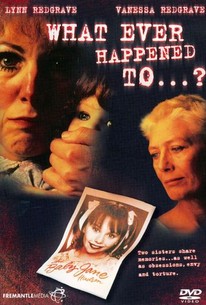 AUDIENCE SCORE
Critic Consensus: No consensus yet.
Whatever Happened To...? Photos
Movie Info
Whoever hit upon the idea that What Ever Happened to Baby Jane? would make a good TV movie remake forgot one essential fact. The original 1962 Baby Jane was at best a ludicrous melodrama, which only reached the level of art thanks to the bravura performances of Bette Davis and Joan Crawford. This time around, real-life sisters Vanessa and Lynn Redgrave play, respectively, invalid former film star Blanche Hudson and her insanely jealous sister "Baby" Jane Hudson. As before, Jane launches a campaign of terror against her helpless sister, all the while planning her own show business comeback with a smarmy musician (John Glover). Part of the problem with this misfire remake, beyond its overall lack of tension, is the character makeup: With her head shaved, Vanessa looks more like Susan Powter than a former cinema queen, while Lynn, decked out in garish "little girl" makeup, resembles Bozo the Clown. The 1991 Whatever Happened to Baby Jane should be seen at least once just to satisfy the curiosity.
Critic Reviews for Whatever Happened To...?
There are no critic reviews yet for Whatever Happened To...?. Keep checking Rotten Tomatoes for updates!
Audience Reviews for Whatever Happened To...?
One must ask the question: WHY? Why remake this classic? Ratings? Was it ratings sweeps week? This dull and boring remake with its A-list stage and big screen stars suffers from the common afflictions of nearly all TV movies: obvious "on the cheap" production design and effects, including the Foley, and poor pacing with all the film that's cut to fit . . . the alloted air time . . . leaving in scenes and portions of scenes that should have been cut. Pacing is adjusted, not for effect, but to provide some form of suspense just before an obvious cut for commercial break, in hopes that fewer viewers will change the channel. The faults are not with the Redgraves, they're with the budget, production to exactly fit a TV time slot with commercial breaks at specific intervals, and lackluster direction. Don't bother with this "Made for TV" remake trash. Watch the 1962 original with Bette Davis and Joan Crawford, both of whom deserved Oscars for their performances, along with all its other Oscar nominations. Yet ANOTHER remake for TV that should NEVER have been made!
John Lind
This is a colour version of the black and white .. To the T* Me and my sister haven't allways seen eye to eye so Booth versions of this film give me the chills!
angel marth
Whatever Happened To...? Quotes
There are no approved quotes yet for this movie.
Discussion Forum
Discuss Whatever Happened To...? on our Movie forum!