Wheel of Time
(2003)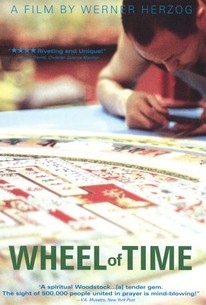 Movie Info
Celebrated filmmaker Werner Herzog turns his attention to one of the largest Buddhist gatherings in the world in this documentary. Each year, thousands of Buddhist pilgrims travel to the village of Bhod Gaya in India (the place where the Buddha is said to have attained enlightenment) to take part in the Kalachakra Initiation. As the visitors stream into Bhod Gaya, many traveling on foot and often stopping to prostrate themselves as a sign of devotion, a team of monks create a beautiful and intricate sand painting on Mount Kallash, which is scattered to the winds by the Dalai Lama at the end of the 12-day celebration as a symbol of the impermanence of existence. Herzog documents the ancient rituals of this ceremony as well as profiling the Dalai Lama and some of the many Buddhists who travel to India for this event. Wheel of Time was originally produced for German and British television, though it enjoyed a theatrical release in the United States.
News & Interviews for Wheel of Time
Critic Reviews for Wheel of Time
Audience Reviews for Wheel of Time
½
In the incisive documentary "Wheel of Time," Werner Herzog quotes the Dalai Lama as saying that he brought the Kalachakra initiation to the unlikely location of Graz, Austria, in order to expose other people to different religions which could conceivably lead to world peace. And that is exactly what Herzog is up to here by filming at the initiation at Bodh Gaya, India as he gets some very resplendent images, both behind the scenes and of the ceremonies, allowing those of who could never imagine traveling so far to one to see the momentous occasion. At the same time, many people far from off places do travel long and far to attend, including one monk whose journey of prostrations took 3 1/2 years and is from such a remote place that he requires two translators.(Herzog also talks to a former political prisoner who is given a place of honor at the proceedings.) Of additional interest and quite spectacular in itself is the yearly procession around Mount Kailash in western Tibet that is a holy site not only for Buddhists, but for Hindus, also. From what I can glean after watching this documentary, a lot of Buddhism seems to be about giving and receiving. In exchange for the prostrations and holy journeys, the pilgrims receive karma.
Yet another excellent work, by Werner Herzog.
Anastasia Bartzoulianou
Super Reviewer
½
Herzog's greatest talent has always been in knowing when to stop the commentary and let the images speak for themselves. Here, he documents a rare and sacred Buddhist initiation and, as usual, creates a thoroughly compelling film. Things like the sand-mandala need to be seen to be believed. There's a 3000 mile pilgrimage - stopping every two steps to lie down and pray. There's the man who was jailed for 13 years because he shouted "Free Tibet!". And then there's a chat with the Dalai Lama. No matter what your beliefs, this is a fascinating documentary by a film-maker who knows how to do such an event justice.
Marcus Woolcott
Super Reviewer
Wheel of Time Quotes
There are no approved quotes yet for this movie.