Word Wars
(2004)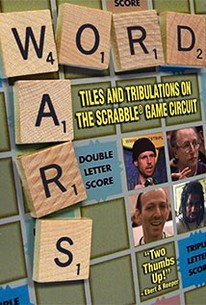 Movie Info
The directorial debut of filmmakers Eric Chaikin and Julian Petrillo, Word Wars: Tiles and Tribulations on the Scrabble Circuit is a humorous documentary look at the culture surrounding the National Scrabble Tournament. Focusing on four players in particular, the film details the intense competitions that lead up to the finals in San Diego, where each of the competitors hopes to take home the 25,000-dollar prize. Premiering at the 2004 Sundance Film Festival, Word Wars screened as part of the documentary competition.
Critic Reviews for Word Wars
Audience Reviews for Word Wars
An extraordinary band of misfits embark on trying to win a Scrabble tournament. I love seeing people with such eccentricities. I enjoy a good game of Scrabble, but these guys are obsessed. This also damages them as characters. Most don't have jobs, instead deciding to focus on Scrabble. Also, they don't tend to be that smart. They simply memorize what's allowed and what isn't The film takes us to a number of places and events, but never gets exceptionally interesting. It also doesn't build up the tension of the games, just simple notes on who's winning pop up on screen. A nice piece as a simple observation of a strange world, but doesn't explore the subject.
Luke Baldock
Super Reviewer
½
My boyfriend is weird, so he makes me watch all these documentaries with him...which I tend to enjoy for the most part. Word Wars is about a group of guys who participate in a Scrabble competition. They are obsessed with winning and the documentary follows them as they play. They are crazy guys, but it's still interesting to watch.
A sad yet interesting look into the world of Scrabble and the people who try to make a living winning small cash prizes.
James Alvarez
Super Reviewer
Word Wars Quotes
There are no approved quotes yet for this movie.