XX/XY
(2003)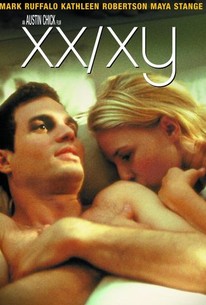 Movie Info
A man finds himself having to decide between one of two women -- not once, but twice -- in this independent drama. In 1993, Coles (Mark Ruffalo) is a film student at Sarah Lawrence where he meets two fellow undergrads, Thea (Kathleen Robertson) and Sam (Maya Stange). Coles and Sam come together and Thea fades out of the picture. In time, Sam tires of Coles' aimlessly hedonistic attitude, and they break up. Ten years later, Coles, after a failed career in feature films, is doing animation for an advertising agency and living with his girlfriend, Claire (Petra Wright); Thea helps run a successful restaurant with her husband, Miles (David Thornton); and Sam, smarting from a bad breakup, returns to New York after several years in London. Coles runs into Sam and discovers he still has strong feelings for her, but has to decide if they're strong enough to break off his relationship with Claire. XX/XY was the first feature film from writer/director Austin Chick.
People Who Like this movie also like
Audience Reviews for XX/XY
½
[font=Century Gothic]"XX/XY" starts in 1993 in New York City. After Coles(Mark Ruffalo), an artist and aspiring filmmaker, gracefully jumps a turnstile in the subway, he notices a comely young woman, Sam(Maya Stange), and follows her back to a party at Saint Lawrence College where he strikes up a conversation with her. Luckily for him, he not only gets to spend the night with her but also with her friend, Thea(Kathleen Robertson). Out of that situation, Sam and Coles start going out together while Thea and her friend, Sid(Kel O'Neill), become intimate. All of which would be fine if Coles did not have sex with everything that moved...[/font] [font=Century Gothic][/font] [font=Century Gothic][/font] [font=Century Gothic]"XX/XY" is an insipid movie that is ostensibly about the maturing process after college but there are no set rules that go along with getting older.(Although flossing is recommended...) In my experience college students are not that carefree, just very melodramatic. The only event that is guaranteed to change a person's life as a young adult is taking care of another person - be they child or parent. [/font] [font=Century Gothic][/font] [font=Century Gothic]In the movie, barely drawn characters all orbit around the one person who has a personality(and a hairstyle does not count as a personality trait) but since it is such an unpleasant one, the movie never comes together. It is a shame because the film does have its share of nice moments.[/font]
XX/XY Quotes
There are no approved quotes yet for this movie.