Your Name. (Kimi No Na Wa.)
(2017)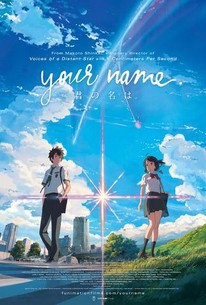 Your Name. (Kimi No Na Wa.) Videos
Your Name. (Kimi No Na Wa.) Photos
Movie Info
From director Makoto Shinkai, the innovative mind behind Voices of a Distant Star and 5 Centimeters Per Second, comes a beautiful masterpiece about time, the thread of fate, and the hearts of two young souls. The day the stars fell, two lives changed forever. High schoolers Mitsuha and Taki are complete strangers living separate lives. But one night, they suddenly switch places. Mitsuha wakes up in Taki's body, and he in hers. This bizarre occurrence continues to happen randomly, and the two must adjust their lives around each other. Yet, somehow, it works. They build a connection and communicate by leaving notes, messages, and more importantly, an imprint. When a dazzling comet lights up the night's sky, something shifts, and they seek each other out wanting something more-a chance to finally meet. But try as they might, something more daunting than distance prevents them. Is the string of fate between Mitsuha and Taki strong enough to bring them together, or will forces outside their control leave them forever separated?
News & Interviews for Your Name. (Kimi No Na Wa.)
Critic Reviews for Your Name. (Kimi No Na Wa.)
Audience Reviews for Your Name. (Kimi No Na Wa.)
I would never take it away from anyone, but I was underwhelmed. Final rating:?? - Definitely not for me, but I sort of get the appeal.
For those who like complex plots and rewatching movies.
Letitia Lew
Super Reviewer
Makoto Shinkai has amassed a hugely impressive filmography over the years. 'Your Name', however is possibly the finest film Shinkai has produced to date literally putting the director up there as competing with Hayao Miyazaki, the entire Studio Ghibli team and Oscar nominated Momoru Hosada. Shinkai's attention to detail is so immaculate in his films it's impossible to look away at the amazing animation, fluid in every detail, almost recreating everything from real life into animation. But what's at the core here is Shinkai's story the film mixes an array of genres including romance, drama, comedy, fantasy and mystery. The film's sense of humour marked with awkward moments and hilarious dialogue that confuses audiences sense of where the plot will go and crushes any sense of cliches. It's an endearing tale that keeps viewers on the edge of their seats no willing to stop even when things get humorous or heartwarming, that added with the film's genuine sense of intimacy, thought-provoking plotting and relatable characters that make me really want to relive my youth are some of the biggest highlights of this new Anime Masterpiece I'm not sure if seeing once is really enough nor doing it justice in a short review is likely to happen. I absolutely loved every frame, every moment and everything about this film I can't recommend it more than enough, it really is the greatest piece of Anime I've seen in ages and I cannot wait to watch it again. It has a great chance of being an Oscar Nominee as much as having a win.
Luke Eberhardt
Super Reviewer
Your Name. (Kimi No Na Wa.) Quotes
There are no approved quotes yet for this movie.
Discussion Forum
Discuss Your Name. (Kimi No Na Wa.) on our Movie forum!