Zindagi Na Milegi Dobara
(2011)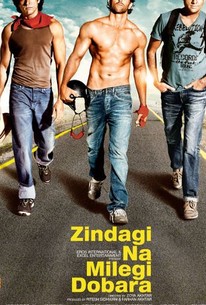 Zindagi Na Milegi Dobara Photos
Movie Info
Kabir has just met Natasha. Six months later they are engaged. He wants to go on an extended bachelor party, a three-week road trip with Imraan and Arjun, his two best friends since school. It is a journey they were meant to take after college but it never happened -- a road trip where each one gets to do the ultimate sport of his choice and the other two just have to do it with him, whether they want to or not! Kabir, Imraan and Arjun meet up in Barcelona and set off on an adventure that will not only make them iron out their differences but also face their fears, alter their perception, unravel their fabric, force them to break out of the box and teach them to seize the day. In other words, a holiday that will change their lives forever.
Critic Reviews for Zindagi Na Milegi Dobara
Audience Reviews for Zindagi Na Milegi Dobara
½
It was quite apparent from the promo what I was supposed to expect from the movie: Yet another friendship flick. But as I sat down to watch it, boy was I surprised!!! Yeah, "boy was I surprised" part in the previous sentence ain't true. As expected, ZNMD turned out to be a run-of-the-mill friendship saga which had a handful of favorable moments. Except for the beauty of Spain, the package hardly consists of anything worthwhile. The best thing about the movie is the casting of protagonists (Abhay, Hrithik, Farhan, Kaitrina, Kalki). They perform well enough in this film which has an apology for a script. Worst is the emotional quotient. Although it doesn't occupy much of the runtime, they're thrown in. Probably, they ran out of options for fillers. The sequences which were supposed to stir up emotions & moisten my eyes were terribly written. None of them were remotely touching, let alone moistening my eyes. There's a sort of mystery woven w.r.t. Imraan's father, but when it's unveiled, it lacked the punch I was expecting. And a small surprise thrown in towards the ending, while surprised me, didn't make the movie any more effective. I felt as if the writer had pulled off random events, some good, some bad, from here & there and assembled it into the script anyhow. What a messy journey!!! It's surely not the worst I've seen till date, but I don't find it any recommendable.
familiar stranger
Super Reviewer
Although the characters aren't very well etched out, it does have its moments and the camaraderie shines through. Acting is sincere and cinematography, splendid, nothing over the top here. The real star of the show, though, is Spain, always breath taking, always splendid. The scenes where they just take in the moments with Farhan Akhtar reciting Javed Akhtarâ(TM)s poetry, is worth all the money you pay for your ticket. Zoya Akhtar, after a super âLuck by chanceâ? shows that she is a directorial talent to reckon with.
Sundeep Bhat
Super Reviewer
½
Despite a familiar plot revolving around coming of age friends, and an over-eagerness to be hyper-cool, movie does have its moments with its warm humor and exotic locations.
Zindagi Na Milegi Dobara Quotes
There are no approved quotes yet for this movie.