Zombi 3 (Zombie Flesh Eaters 2)
(1988)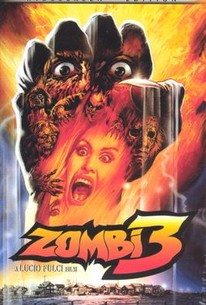 AUDIENCE SCORE
Critic Consensus: No consensus yet.
Zombi 3 (Zombie Flesh Eaters 2) Photos
Movie Info
The muddled production history of this sloppy horror film was so convoluted that for years it was assumed that schlockmeister Bruno Mattei (Inferno dei Morti-Viventi) had completed the project after the failing health of principal director Lucio Fulci had forced the cult legend to abandon it. It was subsequently revealed that co-producer Claudio Fragasso, who had directed such abominations as Monster Dog and La Casa 5, was the man responsible for the resultant mess (albeit with Mattei's assistance on location in the Philippines). The story line and approach bear little resemblance to Fulci's much-admired 1979 cult favorite Zombi 2, revolving around scientists at a top-secret research facility working on a biological weapon called Death One, which mutates and kills the living and reanimates the dead. Naturally, there is a leak, and the rest of the film concerns the spreading infection, zombie attacks, and their effect on a trio of vacationing soldiers and a group of stereotypically daft young people in and around a contaminated hotel. Where Fulci's Zombi 2 had taken elements of George Romero's Dawn of the Dead (released in Italy in a re-edited Dario Argento version as Zombi) and introduced more traditional Haitian voodoo mythology to the plot line, this film attempts to play off not only its predecessors, but Day of the Dead, the jokey American remake Return of the Living Dead, and Romero's own 1972 bio-terror film The Crazies as well. Lowlights include a zombie baby ripping from its mother's womb Alien-style to tear off someone's face, a legless zombie attacking her ex-boyfriend in a swimming pool, and -- most groan-inducing of all -- a zombie DJ concluding the entire sorry affair by dedicating a record to "all the undead around the world." American exploitation director Deran Serafian leads a cast including Beatrice Ring, Luciano Pigozzi, and Massimo Vanni, while Franco Di Girolamo handled the gore effects.
Critic Reviews for Zombi 3 (Zombie Flesh Eaters 2)
All Critics (4) | Fresh (2) | Rotten (2) | DVD (1)
One thing about Italian horror flicks, no matter how terrible the actual movie is they always stick the landing.
If the phrase "extraordinarily bad" was ever fated to be applied to a movie, that movie is Zombi 3.
Not without its joys, but the film never reaches the same depths of poor taste that made Zombi 2 such a wretchedly good time.
Audience Reviews for Zombi 3 (Zombie Flesh Eaters 2)
Poorly produced, scripted, non sense and !the worst thing is that it was directed in many scenes for the master, Lucio Fulci. This sequel is soooooooo bad that is HILARIOUS! There is a 4th installment but for sure I won't be looking for it.
½
Definitely do not watch this unless it's the DVD version because the whole time you will be driving yourself mad asking, "Which is Fulci and which is Bruno Mattei?" Mattei clears that up himself in the DVD extras, so you need to see that.
Apparently, Fulci was sick and disinterested when he made this movie and it shows in his segments. It's still good and superior to any zombie flix rolled out today, but it is not comparable to Zombi 2. Zombie fans must see this, as it shows a culmination of the ideas brought forth by genre directors of this era. We have the white suits of 'The Crazies', the zombies of "Zombi 2', the relationship scenes with talking zombies akin to 'Return of the Living Dead', and the final death scene is awesome, clearly influencing today's storylines and set design. It's best not to view this as a Fulci film, but as a prototypical action film of the zombie genre.
_kelly .King
Super Reviewer
It's like when superheroes team up. Fulci and Mattei team up for this much maligned but constantly entertaining flick. Very fun, though a lot of Fulci fans (me included) consider this a Mattei film.
Christopher Brown
Super Reviewer
Zombi 3 (Zombie Flesh Eaters 2) Quotes
There are no approved quotes yet for this movie.