Day 1: 1:00 AM-2:00 AM
EPISODE: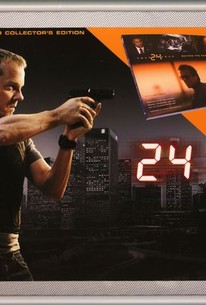 Episode Info
Tony (Carlos Bernard) wants to know what happened between Mason and Jack (Kiefer Sutherland). Nina (Sarah Clarke) comes up with a cover story. Mandy (Mia Kirshner) touches down, and hides the ID she took from the photographer on the plane. Teri (Leslie Hope) and Janet's (Jacqui Maxwell) dad, Alan York (Richard Burgi), get to the furniture store, but the kids are long gone. Walsh (Michael O'Neill) meets a frightened agent, who gives him a card key encoded with classified information about Palmer (Dennis Haysbert), which he says was created by the mole in CTU. Before Walsh can act on the information, the agent is killed, and he finds himself pinned down by unseen gunmen. He calls Jack for help. Mandy meets with Ira Gaines (Michael Massee) and he pays her for the ID, which her partner is bringing. At Gaines' hideout, Mandy sees Jonathan (Rudolph Martin), who's been surgically altered to look just like the photographer. Jack reaches Walsh, and helps him kill two of the gunmen. Jack cuts the thumb off of one corpse, for identification purposes. Bridgit (Kim Murphy), Mandy's partner, shows up at the hideout, but won't give up the ID until Gaines doubles their money. Secret service agents show up at Palmer's hotel room and tell Sherry (Penny Johnson) about the threat against his life, but the senator has taken off on his own. Walsh is killed after giving Jack the key card. Jack gets away, and transmits info on the card to Jamey (Karina Arroyave), who tells him that the card came from Nina's computer. Rick (Daniel Bess) and Dan (Matthew Carey) order Kim (Elisha Cuthbert) to call her mother and say she's okay. Dan smashes Janet's arm with a tire iron when Kim refuses.
Day 1: 1:00 AM-2:00 AM Photos
Discussion Forum
Discuss 24 on our TV talk forum!