Day 1: 3:00 AM-4:00 AM
EPISODE: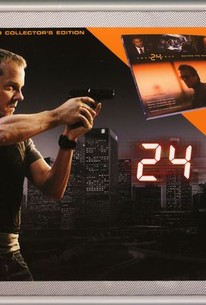 Episode Info
Nina (Sarah Clarke) is angry at Jack (Kiefer Sutherland). He tries to explain why he suspected her. He tells her that Walsh was killed, and that they have to work together with Jamey (Karina Arroyave) to figure things out. Jamey manages to get an address off the key card, but just before Jack leaves to check it out, Mason (Xander Berkeley) returns, and puts the office on "official lockdown." Jack manages to get out of the building. Tony (Carlos Bernard) admits to Nina that he called Mason in. Palmer (Dennis Haysbert) returns to his hotel room, and finds out about the assassination threat. Kim (Elisha Cuthbert) pleads with Rick (Daniel Bess) and Dan (Matthew Carey) to go back for Janet (Jacqui Maxwell), whom they've left for dead. Dan decides they have to go back...to finish Janet off. Just as Dan is about to shoot Janet, an ambulance arrives, and he's forced to leave. Palmer finds out the source for the story about Keith (Vicellous Shannon) was Keith's old therapist, and he finally tells Sherry (Penny Johnson Jerald) what's going on. Teri (Leslie Hope) and Alan (Richard Burgi) are stopped by an overzealous cop as they race to find Kim and Janet, and Teri and Jack miss each other's phone calls. Jack arrives at the address from the key card, and finds himself exchanging fire with someone. Jessie Hampton (Yolonda Ross), a policewoman on patrol, hears the shots and enters the building. She helps Jack find the gunman, but ends up being taken hostage. Rick and Dan turn Kim over to Ira Gaines (Michael Massee). Dan tells Gaines that Janet is dead.
Day 1: 3:00 AM-4:00 AM Photos
Discussion Forum
Discuss 24 on our TV talk forum!