Day 1: 6:00 AM-7:00 AM
EPISODE: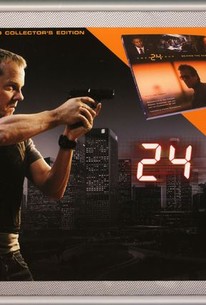 Episode Info
Milo (Eric Balfour) tells Nina (Sarah Clarke) he's getting plastic surgery records off the key card, and will soon come up with a name. Palmer (Dennis Haysbert) tries to convince his son Keith (Vicellous Shannon) to attend the breakfast where Palmer plans to tell the press what really happened to Nicole's (Megalyn Echikunwoke) rapist. Keith angrily accuses Palmer of always putting his career before his family. Nicole is also upset, but agrees to go to the breakfast. Gaines (Michael Massee) orders Jack (Kiefer Sutherland) to replace the key card that Milo is decoding. When Jack gets to the office, he pretends everything is going well. Nina tells him that the dead man in the trunk was Alan York, and Jack struggles to remain composed. Knowing that Gaines can hear everything he says, he tries to write a note to Nina, only to learn that Gaines can also see him through CTU's security cameras. Gaines calls Kevin (Richard Burgi) and warns him that Teri (Leslie Hope) knows he's not York. Kevin gets the message too late, giving Teri a chance to knock him out and tie him to a tree before frantically trying to reach Jack. Rick (Daniel Bess) is worried when Gaines orders him to stay on the compound, so he agrees to help Kimberly (Elisha Cuthbert) try to escape. Jack manages to switch the disc on Milo, but Milo and Nina soon realize what's happened, and Nina confronts Jack, who pulls a gun on her, and forces her to leave CTU with him. Tony (Carlos Bernard) sees them leaving, and decides to look at the security tape. Teri calls the office and reaches Jamey (Karina Arroyave), who promises to send someone from CTU to get her. Gaines orders Jack to take Nina to a remote area and kill her.
Day 1: 6:00 AM-7:00 AM Photos
Discussion Forum
Discuss 24 on our TV talk forum!