Day 1: 8:00 AM-9:00 AM
EPISODE: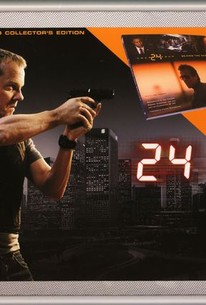 Episode Info
Palmer (Dennis Haysbert) is evacuated from the power plant after the assassination attempt, while Jack (Kiefer Sutherland) is taken into custody. He tells the secret service head, Simes (Michael Bryan French). Jamey (Karina Arroyave) tells Nina (Sarah Clarke) and Tony (Carlos Bernard) that she's working for Gaines (Michael Massee). They have her call Gaines and tell him that she's removing the tap on CTU's surveillance, which she does. Once again able to move freely, Nina has Milo (Eric Balfour) take over Jamey's work. Jack tells Simes that the people trying to kill Palmer are holding his wife and daughter hostage. Simes says he can't help Jack, and prepares to turn him over to the FBI. Jack manages to grab a gun and escape. He forces a woman, Lauren (Kathleen Wilhoite), at gunpoint to drive him away. Jamey tries to explain her actions to Tony, who calls her a traitor. She refuses to cooperate further until they give her immunity. Jack, now with a hostage, gets to a phone and calls Nina, who tells him that Jamey was the mole. He talks to Jamey, promising to get her out of trouble if she'll help them find Gaines. She refuses, so Jack tells Nina to send a car for him, and to bring in Jamey's son. Mike (Jude Ciccolella) tells Palmer about Jack. The name Jack Bauer sounds familiar. Eli (Silas Weir Mitchell), one of Gaines' goons, tries to rape Kimberly (Elisha Cuthbert), but Teri (Leslie Hope) offers herself instead. She somehow manages to lift his cell phone while he does his business. Sherry (Penny Johnson Jerald) gets the reporter to hold off on the story about Keith (Vicellous Shannon). Tony tells Jamey that they're bringing her son in. Jack asks Lauren to get his car, giving her a chance to escape.
Day 1: 8:00 AM-9:00 AM Photos
Discussion Forum
Discuss 24 on our TV talk forum!