Day 1: 9:00 AM-10:00 AM
EPISODE: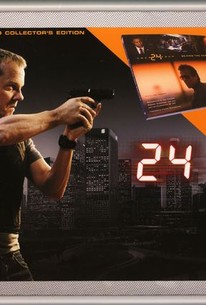 Episode Info
Jamey (Karina Arroyave) is hauled out of CTU on a stretcher. Jack (Kiefer Sutherland) calls Nina (Sarah Clarke) and she tells him about Teri's (Leslie Hope) call, and about Jamey's suicide attempt. Teri calls again, but has to hide the cell phone when Eli (Silas Weir Mitchell) comes back looking for it. Teri and Kimberly (Elisha Cuthbert) play dumb. Rick (Daniel Bess) sees the phone, but doesn't tell Eli. Milo (Eric Balfour) begins tracing the call. Palmer (Dennis Haysbert) tells Sherry (Penny Johnson Jerald) that he still plans to go public with the story. Tony (Carlos Bernard) finds an encrypted e-mail that Jamey sent from her computer that morning with a man's name, "Ted Cofell," as the subject. Milo starts decoding it. The cops have an APB out on Jack. They pull him over, but he gets away again. Nina patches him through to Teri and Kim and he promises he'll save them. They hide the phone again as Eli returns, still looking for it. Jack listens in helplessly as he roughly interrogates them. Then the phone, low on battery power, starts beeping. Eli finds it, picks it up, and hears Jack issue a death threat. He hangs up before they can finish the trace. Rick tries to convince Eli not to tell Gaines (Michael Massee) about the incident. Nina gives Jack an address for Cofell (Currie Graham), an investment banker, and Jack heads there. Andre Drazen (Zeljko Ivanek) calls Gaines to complain that Palmer is still alive. He threatens to take back his money, and worse. Sherry calls Carl (Zach Grenier), who tells her he's "taken care of" the evidence against Keith. Milo decodes the e-mail. It's about a wire transfer to Gaines. CTU sends Alberta Green (Tamara Tunie) to take over for Jack, while Jack closes in on Cofell.
Day 1: 9:00 AM-10:00 AM Photos
Discussion Forum
Discuss 24 on our TV talk forum!