Day 2: 9:00 AM-10:00 AM
EPISODE: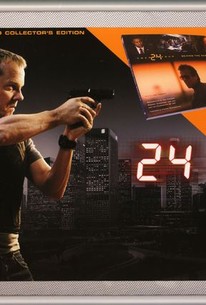 Episode Info
Palmer (Dennis Haysbert) tries to keep the media from learning about the terrorist threat. He explains that he's just as concerned about mass hysteria as he is about the bomb in L.A. Kim (Elisha Cuthbert) takes Megan (Skye McCole Bartusiak) and runs, getting the girl away from her desperate, abusive father, Gary (Billy Burke). Gary calls the cops and tells them that Kim has abducted Megan; then he goes after the two. Jack (Kiefer Sutherland) tries to reestablish an old cover and infiltrate a terrorist-related group, led by Eddie (Douglas O'Keeffe). One member, Dave (Gregory Sporleder), is immediately suspicious of Jack and looks up his prison record (which Paula Sara Gilbert has to fudge, over at CTU). Palmer finds out that a reporter, Wieland (Michael Holden), knows that the nation's alert status has been upgraded and plans to run a story about it. When Palmer can't persuade Wieland to hold off on the story, he has the reporter detained. Mason (Xander Berkeley) sees an intelligence report and realizes there's a high probability that a nuclear device will be detonated in L.A. He decides to "check out a lead" in Bakersfield, leading to a confrontation with Tony (Carlos Bernard), who sees through the ruse. Ralph (Jim Abele) tells Kate (Sarah Wynter) to check out Reza's (Phillip Rhys) passport in order to confirm his terrorist connections. Jack picks a fight with Dave, and breaks his ankle, earning him the right to take Dave's place on the terrorist team. Kim hides Megan and goes to make a phone call. Gary finds Kim and, after a struggle, Kim returns to find Megan gone. After the crew loads up their explosives, Eddie tells Jack they're doing a "conversion" job -- turning a government building into a cemetery. "Which building?" Jack asks. "CTU."
Day 2: 9:00 AM-10:00 AM Photos
Discussion Forum
Discuss 24 on our TV talk forum!