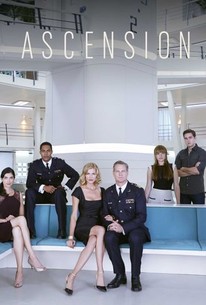 Where to watch
Buy
Buy
Buy
Rate And Review
Episodes
Air date: Dec 17, 2014
More light is shed on Christa, while Viondra uses a power surge to her advantage; Duke leaves Emily when she confirms her affair with Gault.
View Details
Ascension: Season 1 Photos
Audience Reviews for Ascension: Season 1
My hackles are generally up when the PR material shows the cast in a posed photograph. It's utterly pointless and so is this ; the timelines are completely unrealistic, acting schools must be dumbing down these days and the script makes you wince.

Another Mystery-Box'y show. Half the People have one or two intrigue's running, a skeleton in the closet and one big Secret wich blows in the most Drama-Effectiv Moment.

I absolutely loved the series. Just found it on Netflix. The story has a lot of interesting characters with their own motivations. The sets are amazingly created.it has so much mystery that I was hooked with every episode. It's a must watch. Please watch one episode and think for yourself And don't let me or anyone stop you from giving this show a chance. Especially the idiots that rated it a bad score. I really hope this site gets taken down one day. With all these wannabe movie critics that can't enjoy anything because someone must have cut out part of their brain that holds any imaginations whatsoever, please don't read their bullcrap and give it one episode. Thanks and sorry for being four years late.

The only tragedy is that it ended with just the mini series...

good stuff. what a pity this doesn´t go on.

Great idea, bad execution. Also, the marketing 'bait and switch' didn't do the show any favors. As the wikipedia article mentioned, the marketing and synopsis made it seem that the premise was one thing when in fact it was another. Also, I would like to stress that the actual plot of the show was far more interesting than what I thought the plot was in episode 1. But it took at least 3 episodes to give the audience something good. That's where the show failed to capture audience. Sadly, this will just be archived as another great idea that they dropped the ball on.

I couldn't make it through episode 1. At first, I was intrigued. Before long, however, the 3rd grade-level expository dialogue made me wince and I had to stop watching. One and a half stars for holding my attention for more than 15 minutes.

Good, but do not expect all the threads to be tied by the end.

The twist that happens in Quentin Tarantino's "From Dusk Till Dawn" doesn't compare to the deceptive opening that this series provides. I give it a 10 out of 10 for creativity! The cast is phenomenal and the idea is pure genius!

This is a great series. Some nice twists, and an incredible premise, though the story goes a little off the tracks (not wanting to give any spOiLERS) it holds things together well, ultimately. disappointed this didn't make it to a second season. Definitely worth a watch.
See Details