SEASON: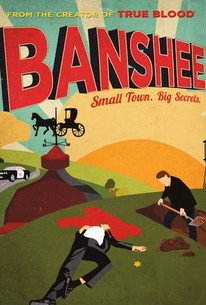 Tv Season Info
In season 2 an ex-con who assumes the identity of a lawman named Lucas Hood. An FBI special agent who opens an investigation for the shootout between Hood and Czar Rabbit. Carrie, tries to patch up things with husband Gordon, and daughter. A horrific murder triggers problem between the Amish community and the Kinaho tribe. During the investigation, Lucas and his deputies confront gang of Kinaho bikers. Proctor takes matters into his own hands and delivers a peace offering to the Kinaho in hopes of cooling off the hostilities between the two groups. Lucas and Carrie head to New York, for a final showdown with Rabbit.
News & Interviews for Banshee: Season 2
Audience Reviews for Banshee: Season 2
½
This season was more of the same and not of the good kind. The whole Mr. Rabbit ordeal should've been solved on S01 and we're treading on the same ground here as far as our protagonists go. Still, the villains get some more screen time with mixed results. The annoying flash back montage is here too, the silly romance too; only the nuttiness of the fight scenes and action set pieces is still top notch.
½
Picking up from what's left in the end of season 1. Season 2 still shines brightly, the plot still managed to be interesting, it featured the subplot of racial tension within the peaceful town, which lead to a war between the Amish community and the Native American clan.
Discussion Forum
Discuss Banshee on our TV talk forum!