Breaking Bad: Season 4
(2011)
SEASON: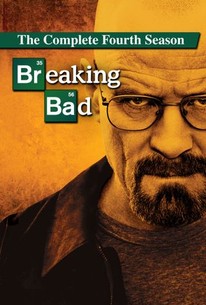 Episodes
Air date: Jul 17, 2011
Walt and Jesse are held captive for Gus, after Gale's death. Meanwhile, Skyler tries to find out what happened to Walt.More
Air date: Jul 24, 2011
Shaken by Gus's calm violence, Jesse cokes up; bleary-eyed and jittery, he throws a party. Walter, believing it's kill or be killed, buys a snub-nosed .38 on the black market, intent on shooting Gus and Mike. Skyler looks to launder money at a car wash, and, to Hank's increasing irritation, Marie insists on cheering his every step. Men deliver boxes of minerals and pick up boxes of crystal.More
Air date: Jul 31, 2011
Skyler finds a way to pressure the car-wash owner into selling, while Marie goes on a series of visits to realtors' open houses. Her antics get her in trouble, and Hank has to pull a few strings. One of his cop friends helps Marie out and, in turn, asks Hank to look at a notebook found at the scene of a murder. Meanwhile, Jesse's round-the-clock open houseparty brings no mirth.More
Air date: Aug 7, 2011
Walt and Skyler have decided to use gambling to explain how Walt has made all of his money. It's not to be a happy story and Skyler insists that Walt admit to a gambling addiction and express deep shame for what he has done. At dinner with Marie and Hank Schrader, they tell their rehearsed story. Hank has a story for Walt however, one of a dead wannabee singer who had lab notes describing a super-processing meth lab. Hank is convinced the dead man is Heisenberg, the drug manufacturer he has been looking for for over a year.More
Air date: Aug 14, 2011
In his attempt to save Jesse, Walt visits Gus' fast food restaurant but isn't quite prepared for what he learns. Nor is Jesse for that matter. In fact, he proves to be quite useful though not everything is as it seems. Hank is convinced that Gale Boetticher was Heisenberg and tells the local police detective that he really has no further interest in the case. He mentions that Jesse Pinkman could have been involved but is not likely the shooter.More
Air date: Aug 21, 2011
It's the morning after the night before and Walt has a major hangover. Skyler is now convinced that Walt is in danger but he makes sure she understands exactly how important he is to the criminal organization. He's a little too blunt as Skyler's reaction is to take the baby and disappear for a few days. One of Gus' trucks has been hijacked so Mike and Jesse are tasked to get the blue meth back. Once again, Jesse proves to be unexpectedly useful. More
Air date: Aug 28, 2011
The car wash is now in operation but Skyler isn't prepared for the amount of money Walt is bringing in. She also arranges for Walt to return the car he bought Walt Jr. but in the end decides he has other plans for it. Walt still believes his life is in danger as long as Gus is alive and speaks to Saul about how he wants to hire a hit man. He finds someone closer to home. Hank and Walter Jr. visit Gus Fring's chicken restaurant and Hank has something very specific in mind. He's slowly putting the facts together in his quest for Heisenberg. More
Air date: Sep 4, 2011
Hank's discovery of Gus Fring's fingerprint in Gale Boetticher's apartment is enough for DEA and Albuquerque PD to bring Gus in for an interview. He seems to have an answer for everything, including why his fingerprint was found at the crime scene. Everyone but Hank seems to be satisfied and they decide not to pursue the matter. Hank isn't so sure. Gus realizes how close he's come to being caught and in flashbacks, his entry into a world of crime and his work with the Mexican drug cartel is revealed. More
Air date: Sep 11, 2011
Hank is like a dog with a bone and keeps digging into Gus Fring's business dealings despite Walt's attempts to get him to stop. When Hank learns that Gus has a warehouse operation, Mike and a crew have to get rid of any trace of drugs on the premises. The Cartel however is lying in wait. When Jesse expresses concern over his future well-being Gus asks him over for dinner and asks him one question: can he cook Walt's recipe without Walt's assistance. Skyler meanwhile gets a visit from her old boss who reveals that he's about to undergo an IRS audit. More
Air date: Sep 18, 2011
Jesse, Gus, and Mike fly to Mexico where Jesse will cook a batch of crystal meth for Don Eladio's skeptical team. If Jesse succeeds, then what? Walter is recovering from a beating and misses his son's 16th birthday; Walter Jr. comes to his dad's place to find out what's wrong. Skyler discovers that Ted Beneke is not using an anonymous windfall to repay the IRS; she calls on Ted. By the end, we're back poolside at Don Eladio's villa where they toast each other's health with well-aged tequila.More
Show More Episodes
Breaking Bad: Season 4 Videos
Breaking Bad: Season 4 Photos
Tv Season Info
Informed he has terminal cancer, an underachieving chemistry genius turned high school teacher uses his expertise to secretly provide for his family by producing the world's highest quality crystal meth.
Genre:
Drama
Network:
AMC
Premiere Date:
Jul 17, 2011
Creator:
Executive Producer:
Audience Reviews for Breaking Bad: Season 4
½
Kicking things into high gear, the fourth season of "Breaking Bad" will almost feel like the conclusion to the show by the end, until you get until the very last scene, that has blown the minds of fans around the world. The season helms some of the best moments/episodes of the entire show, and although it has it's slow moments, this is really the defining chapter in which Walter White begins to go fully insane. The facinating transformation over the past four seasons seems more and more worth it the depper you get into this show. The performances keep getting better and the steaks are finally at an all-time high. Season four of "Breaking Bad" is the best season since the first. Overall, everyone has their moment in the spotlight here, and it definitely shows in the final product. With great writing, amazing twists, and a conclusion that will leave you staring at the television until the next season, season four is near perfect.
It continues to grab hold of the interests of hardcore fans and viewers alike as Breaking Bad comes into its fourth season. The show continues to grow in its mesmerizing story and is more pulse-pounding and strong in its leads Cranston & Paul. 5/5
another solid season, but a bit too much "mind game" scheming for my taste
Discussion Forum
Discuss Breaking Bad on our TV talk forum!