Burn Notice: Season 1
(2007)
SEASON: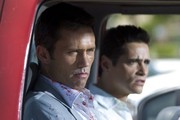 TOMATOMETER
AUDIENCE SCORE
Critic Consensus: Sporting dry humor and slick production values, Burn Notice is perfectly undemanding entertainment.
Episodes
Air date: Jun 28, 2007
Conclusion. Michael is stuck in Miami with his ex-girlfriend, his mother and a retired agent when he learns he's been terminated, so he takes on local cases to fund his investigation into who, or what, caused him to be fired.More
Air date: Jul 5, 2007
Getting away from it all causes more problems than it solves in this comedy from the French writing-directing team of Jean-Marie Larrieu and Arnaud Larrieu. Alexandre Darou (Jean-Pierre Darroussin) and his wife Aurore Lalu (Sabine Azema) are a pair of well-known actors who need a break from the tension and fast pace of their lives in show biz. Adopting the names "Mr. and Mrs. Go," Alexandre and Aurore head for a village high in the mountains of Southwest France, where they hope to enjoy some relaxing downtime and they won't be bothered. However, Alexandre and Aurore underestimated their own fame, and it isn't long before everyone in the town knows that a pair of movie stars are in their midst. As the couple head into the hills, Alexandre and Aurore discover they don't have much of a talent for roughing it, and while she believed that getting away from the city would help her deal with a recent bout with nymphomania, getting back to nature only increases her appetite for other men. Le Voyage Aux Pyrenees (aka Journey To The Pyrenees) was shown as part of the Directors Fortnight series at the 2008 Cannes Film Festival.More
Air date: Jul 12, 2007
A woman who witnessed a brutal beating receives threats from the drug dealer who carried out the crime. Michael tries to get her out of Miami to safety, but the woman's teenage daughter refuses to leave the city, forcing him to try a risky plan to alienate the dealer from his cartel.More
Air date: Jul 19, 2007
Michael helps a friend's daughter escape a prostitution ring while protecting himself from assassination attempts.More
Air date: Jul 26, 2007
A family of gunrunners threaten an airport supervisor, so Michael infiltrates their organization in an attempt to scare them away. Elsewhere, Sam is pressured by the FBI to gather more info on Michael.More
Air date: Aug 2, 2007
Michael is hired to take a boat from Jamaican gangsters and discovers $10 million stashed onboard. Elsewhere, a CSS agent tries to make Michael back off his investigation into the burn notice.More
Air date: Aug 9, 2007
Michael poses as a thief to infiltrate a criminal gang that has been terrorizing a local merchant. Elsewhere, Michael blackmails an agent into handing over information about the burn notice.More
Air date: Aug 16, 2007
Fiona hunts down an alleged jewel thief she believes is innocent. So Michael investigates to find the real culprit. Elsewhere, Michael plots against the man who had him fired.More
Air date: Aug 23, 2007
A house sitter for a millionaire is living the high life until his fiancée is kidnapped and held for a hefty ransom. Meanwhile, a bureaucrat offers Michael information on how to clear the burn notice, but he's suspicious of the man's motives.More
Show More Episodes
Burn Notice: Season 1 Trailers & Photos
Tv Season Info
The first series of this sleek spy series mixes plenty of action with sex appeal and a dose of wry humor. While on a covert mission in Nigeria, spy Michael Westen (Jeffrey Donovan) discovers he's been burned, which equates to being fired in the world of espionage. After escaping the immediate danger of his assignment, he wakes up in Miami with no memory of how he got there and discovers his accounts have been frozen and his contacts cut off. Forced to fend for himself, Michael recruits the help of the only friends he has: Sam Axe (Bruce Campbell), a former intelligence contact whom the FBI has tapped to gain intel on Michael; Fiona Glenanne (Gabrielle Anwar), a spunky ex-IRA operative looking for closure after being dumped by Michael several years earlier; and Michael's meddling mother Madeline (Sharon Gless), who's thrilled to have her son back in her life. Despite the often uneasy state of these alliances, Sam, Fiona and Madeline each bring their own skills to the table to help Michael find out who burned him and why. In order to fund his investigation---not to mention more mundane expenses like rent---Michael picks up a side job as a private investigator helping Miami citizens obtain justice. Each episode chronicles a different case, opening the way for notable guest stars like Lucy Lawless ("Xena: Warrior Princess") and Richard Schiff ("West Wing"). But Michael's main goal throughout the season is following the convoluted trail of betrayals and double-dealings that led to his burn notice. … More
News & Interviews for Burn Notice: Season 1
Friend Ratings for Burn Notice: Season 1
No Friends? Inconceivable! Log in to see what your friends have to say.
Login
Audience Reviews for Burn Notice: Season 1
There are no featured audience reviews yet. Click the link below to see what others say about Burn Notice: Season 1!