SEASON: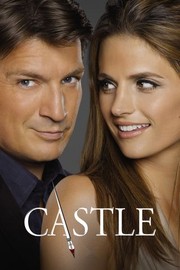 TOMATOMETER
AUDIENCE SCORE
Critic Consensus: Castle's leads are certainly likable and fun to watch, but there's precious little beyond the banter to keep the series compelling.
Episodes
Air date: Mar 9, 2009
In the crime drama's premiere episode, well-known mystery writer Richard Castle (Nathan Fillion) is questioned by a fiery detective (Stana Katic) about a serial killer reenacting murders from his books. The pair instantly clash, but not without the suggestion of romance.More
Air date: Mar 16, 2009
Castle and Beckett discover a young nanny dead inside a laundry-room dryer, and their investigation leads to a dangerous world of play dates. Meanwhile, Castle contemplates Beckett's character while writing his "Nikki Heat" series.More
Air date: Mar 23, 2009
Castle and Beckett investigate the death of a teenager from a once-wealthy family whose body is found in a rowboat in Central Park. Meanwhile, Castle has concerns about leaving Martha home alone.More
Air date: Mar 30, 2009
Castle and Beckett become embroiled in political corruption while investigating the death of a city councilman who was running for reelection. Meanwhile, Castle's latest novel hits the stands, sending his mother into a critical rampage.More
Air date: Apr 6, 2009
A woman found frozen at a construction site leads Beckett and Castle to reopen a cold case. The probe into the victim's past stirs up unpleasant memories for Beckett, which provides Castle with new book material.More
Air date: Apr 13, 2009
A ritualistic killing draws Beckett and Castle into the world of Vodun, a mysterious religion Castle researched for a previous book. Elsewhere, Castle prepares for the possible return of Alexis' mother.More
Air date: Apr 20, 2009
A socialite is savagely murdered during a home invasion. The probe finds Beckett uncomfortably entering Castle's privileged world as his date to a charity ball. And Castle seeks information from a jewel thief who finds him less than charming.More
Air date: Apr 27, 2009
A woman is found drowned in a bathtub full of motor oil at a shady hotel. A true-crime journalist, who may have been tailing the deceased, helps Beckett and Castle with the probe. Elsewhere, Beckett puts her reputation and wallet at stake in a poker game with Castle.More
Air date: May 4, 2009
Beckett aids in a missing-child investigation, only to find the lead FBI agent is her ex-boyfriend, for whom she has unresolved feelings. And Castle complicates matters even more when he butts in on the probe.More
Air date: May 11, 2009
In the Season 1 finale, a plastic surgeon is found murdered in his car, and the ensuing probe involves surgery-obsessed patients and hush-hush procedures. Elsewhere, Alexis attends her first prom; and Castle discovers extremely unsettling information about Beckett's past.More
Castle: Season 1 Trailers & Photos
Tv Season Info
In the first season of this crime drama, successful murder-mystery writer Richard Castle (Nathan Fillion) is asked to consult with the New York City police about a serial-killer case in which the murderer is reenacting scenes from Castle's books. He agrees, and he shares his insight with Det. Kate Beckett (Stana Katic), the lead detective on the case. After the case is solved, Castle uses his friendship with the mayor to continue working with Beckett's team on additional cases. The benefits are mutual: His skills will help the police, and he will get to do research his next series of books centering on Det. Nikki Heat, a female protagonist inspired by Beckett. Beckett objects to the character's name and disapproves of the way Castle doesn't follow police protocol, but she realizes she's in no position to question the mayor's decision. … More
News & Interviews for Castle: Season 1
Friend Ratings for Castle: Season 1
No Friends? Inconceivable! Log in to see what your friends have to say.
Login
Audience Reviews for Castle: Season 1